Posted on May 09, 2009 under
Training
|
7 Comments
I'm a little late with this post, but better late than never. I have to say, people who do post the same day they run or workout must be very diligent bloggers. I probably should post right away though because it's like a dream to me: I'll forget all details of a run by the next day. Hopefully I can at least post a few days after a run. So last week, I ran this 5 mile loop around the nearby lake. Most of my runs have been just doing laps around these one mile loops by my place. It was very convenient because I would walk out the door and just cross the street to the loop. But the lake was a nice change of scenery though. The drive there wasn't too bad, only like 5 minutes. I've joined the San Diego Running Meetup Group to see if there are any meetups that I'd be interested in doing. However, most of the runs are either early in the morning or early evening right after work but it's just too out of the way to do. They actually have meetups on that same lake, but I get out of work too late to do it.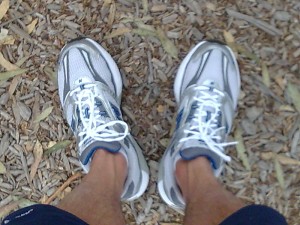 Lake Miramar is a very nice 5 mile loop that is fairly flat and has mile markers every ¼ mile which works out great for runners like me who do not have a fancy GPS watch to tell how fast they are running at every moment. I have to admit, it is getting harder and harder to remember my splits, the more miles I run. I think as I get more into my training, I'm going to have to find another way to keep track of my times and splits.
So when I got to the lake, there were quite a few other runners waiting around. I'm sure they were all meeting up with people to run. I wasn't sure where the start of the loop was at, and as I drove to the lake, I actually passed a parking lot, which I hoped was not the start. But a woman who was part of the group that was waiting was asking where the start was and she stumbled upon that little sign that says, "Start". So I actually parked right in front of the start of the course, how convenient!
As I was approaching the start line, another runner had just started before me, so I tried to follow behind him, hoping to have someone pace me. Bad idea. He went at a pretty fast pace and although I was breathing kind of hard, I think I was able to keep up for at least the first mile. I clocked in at 6:53, which is a pretty good pace, especially for me on the first mile of a 5 mile run. After the first mile, I started falling back and slowing down. The second mile was a lot slower than the first mile, probably because I was running alone now.
I can't remember anything significant that happened for the rest of the run until the last mile when I was running on this sort of bridge. I didn't really notice but I think I was at a higher level than at the beginning of the run. It was a really nice view; I'll try to take a picture of the view next time I run it. I was trying to look out for the last quarter mile or half mile marker so that I could try and pick it up. But I guess I missed it and just finished the run without a real finishing kick. I had a good last mile though, 6:43! This was a pretty good run overall (37:34, 7:30min/mile); hopefully I'll get to do it again soon.
Some non-running notes: There were some other runners along this loop, some running the opposite direction too. But the majority of the people at the lake were people just walking, which is cool that so many people at least do something to try and be healthy.
At random times in the run I would run through a huge group of gnats, they were everywhere! I guess it's expected since I was at a lake, instead of around houses and buildings.
There were quite a few ducks here too and they didn't really care that other people were around. I guess they are used it having other people around.  Overall it was a good run. I hope to do it again soon, and definitely improve my time.