Posted on Mar 22, 2011 under
Race
|
7 Comments

I wanted to run this race last year, mainly because it was the 25th anniversary, but I had just started running half marathons, so I knew I wouldn't have been prepared to run it. This year was really no different, but I had run my first marathon back in June, so I knew I was capable of running 26.2 miles. My cousin, who never competed in any race before, decided to run it and asked me to join him, so I felt I needed to support him. I'll get into details about training, the actual race and logistics, but first, overall results: 3:40:43, AG: 213/1,419; 1,455/23,417 overall. This is about an 8-minute improvement over my last (first) marathon, which is amazing considering my training/race conditions. I'm super thankful about the results as well as the support during and after the race.
Pre-Race
My cousin lives near the finish, so we got dropped off at the shuttle stop and got 'VIP treatment' at the freeway which blocked the exit to all cars except our buses.
We got dropped off at Dodger Stadium which was cool because they actually opened the seating area for everyone to stay warm inside the bleachers and walkways.
There was a line to use the restroom inside the stadium, but we noticed other guys were just walking directly in. We realized the line we were standing in was for guys needing to use #2! Pee break: 1 minute…point for being a guy!
They say it's a scenic course? Like the row of guys (and one woman) peeing along the bushed wall within the first half mile, must be LA…
I didn't get into my corral area in time and the runners were enclosed with 8-10 feet high fences. Every once in a while, a runner would hop the fence into the corral, but at one point a security guard caught someone and told them they can't do that. I waited 'til the coast was clear and made the climb too, adrenaline was already pumping before the race started!
There was literally a sea of runners in this race, pretty crazy…and crowded!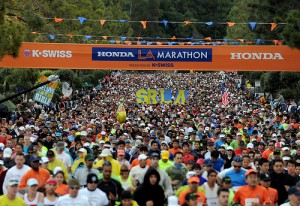 The Race

I would have been perfectly happy to run my first marathon's time (although running slower would have made more sense). I had a tentative goal of 3:50-4:00 (8:46-9:09 pace)
Rain was expected for the race, but I didn't think it would pour! Not cool…
Start was pretty crowded, but it didn't take too long to get into a comfortable pace, although it was faster than my goal pace. The first 15 miles were roughly between 7-8 minute pace and then the wall started creeping up on me.
Around mile 10, I caught up to the 3:40 pace team, which was awesome. I knew they had started ahead of me, so if I had just continued running with them, I would have broken 3:40! But in order to go at their pace, I actually had to run slower than my current pace. I ran with the team briefly, but felt good, so I went ahead of the team: big mistake!
At mile 16, I had realized that I still had 10 more miles to run, definitely not a good mindset!
Fatigue started to set in within the next couple of miles; I was afraid I would flop for the rest of the race and ruin my potential huge PR (or worse DNF!)
Halfway through, I started to get Gatorade at every water stop. I was trying to get back as many electrolytes as possible. I also had my 2nd energy gel and finished off my Gu Chomps. Because of this, I had the slight urge to use a porta-john but used it more as an excuse to stop (sad face). I literally jumped in and out, squat-stretched for a few seconds, waited for the next couple of runners to pass and jumped back into the race.
Check out my risky/poorly run splits, specifically miles 21 & 22, hit a wall much? That was definitely a low part of the race for me…
Mile 21 & 22 was very disheartening, my HR was fine but my legs were literally giving out. I was on the verge cramping up and just wanted to stop…
At mile 23 or 24, a woman (in a tutu) passed me and as she passed other people walking, she gave them a quick pep talk and even counted down for them to start running. It worked on some, not all runners, but I thought that was nice of her…
From mile 23-finish, my paced had actually picked back up (energy gel kicking in? second wind?). It's hard to tell whether it was just the downhill playing a role, but I think it was mostly me trying to finish the race as soon as possible.
Countless times throughout the race, it felt like I was going to pull a muscle (salt packets next time?)
Post-Race
I'm usually huffing and puffing like a maniac immediately following a race (thank you, finishing kick), bending over on my knees trying to catch my breath and then getting my medal and snacks.
But this time, for the first time, I got very…emotional. I can't pinpoint what caused it, either knowing I was done and happy it was over, or just thinking back at the physical pain I went through…I just let it out.
The first thing I wanted to do was get out of the pouring rain.
My left knee was in tremendous pain, so much that I wasn't able to walk immediately after the race. I limped over to the aid station for an ice pack.
Logistics/Support
Although it rained during the whole race, volunteers were still scattered throughout the course. My iPod died after 2 hours which was a good and bad thing. My playlist is organized like this: first half are catchy/upbeat songs to enjoy and pass the time, 2nd half is the more 'motivational'/'make your move' type songs. But with the music off, I was able to hear people actually reading my name off my bib and cheering me on as I passed them. Even though they were complete strangers, it felt very special.
I always liked the rogue food/water dispensers, although I usually don't refuel with them (liquids 26 times is a lot, imagine more in between the mile markers?) My cousin told me how he liked the one group who spent the time peeling the bananas before handing them out. I did choose to have a strawberry which was like, the best tasting strawberry, ever.
Sometimes, I feel like race volunteers are actually paid (and not just with a t-shirt…) Along with the spectators, they are so spirited in cheering people on; it's such a kind act!
After getting the ice pack for my knee at the aid station, I saw people crowding around this other station. A family was handing out hot coffee and tea as well as some awesome home-cooked food (rice, pasta, chicken wings and salmon!)
I was told about a hotel (thank you Fairmont Hotel) that was letting people stay in their (heated) ballroom to dry off and warm from the rain. They were handing out towels, blankets, hot cocoa, snacks with first aid and paramedics available (there were cases of hypothermia…) This was way better than the post-race festival outside in the rain.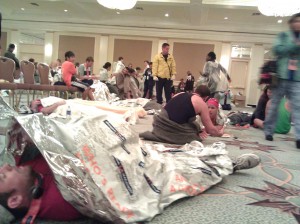 Final Thoughts
The course itself wasn't too bad, not huge uphills, nice downhills throughout. I never notice the scenery at any race, but I'm not a fan of out-and-back races or ones with lots of loops (none of which the LA Marathon) had.
I have yet to run that well-paced race that I've done with a few half marathons and 5Ks. But my body wasn't fully prepared to run this race and the pain and soreness was evident during and after the race. I really don't think I should run another full unless I plan to really train for it.
My brother was checking up on the results, but I think more because his friends kept asking to see them. I didn't beat a few of their PRs, but I'm OK with that for now. I do have a few races planned in the near future: a 5K and trail half marathon in April, nothing for now in May, potentially a half and full (Seattle) in June, 10K and half (race in SF that my brother's friend wants me to run with to compete with them). I'm going to need to run more (but that's nothing new…)