Posted on Sep 07, 2009 under
Reviews
|
4 Comments

I was recently asked to test out and review a pair of Saucony ProGrid Xodus Trail Running Shoes with Vibram outsoles. These trail shoes were picked as Runner's World Editor's choice award back in October 2008, quite an accomplishment if you ask me. I've been hearing a lot of talk about Vibram lately, but mostly about their very odd looking, but supposedly very comfortable Vibram Five Fingers, but that's an entirely different conversation. I got back into running consistently for about half a year and when I first started running, I made a wise decision to avoid getting bored from running by participating in my first race since high school. It felt really good (although nerve-racking) to compete once again. After that race, I was able to keep my motivation up to continue running and even tried a 10K and am now training for my first half marathon. But that very first race that I ran was actually a trail course with a good amount of hills, which my New Balance 768 running shoes could not really handle. Also at that race, I ran ahead/behind a barefoot runner, which must have been really hard considering the terrain. I have wanted to do some additional runs and workouts on hills and trails recently and testing out the Saucony Progrid Xodus trail shoes with Vibram outsoles was the perfect opportunity to do so.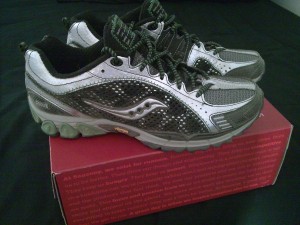 Saucony ProGrid Xodus Trail Running Shoes with Vibram Outsoles
First off, here are some technical details of the Saucony ProGrid Xodus Trail Shoes with Vibram Outsoles taken directly from Saucony.com:
Heel ProGrid with Respon-Tek – Saucony's latest impact deflection technology, ProGrid, absorbs impact, dissipates shock and sets the foot up for a smooth transition
SSL EVA – An advanced EVA blend that maximizes rebound and durability while minimizing weight
HRC Strobel Board – Increases cushioning and comfort
Arch-Lock – Provides snug midfoot fit
Premium Sockliner – Breathable, moisture wicking, anti-odor and antimicrobial Ortholite insole provides improved step-in comfort with rebound properties
SRC Impact Zone – Provides shock attenuation and sets the foot up for a smooth transition
EBO – Protects the foot from rocks
Vibram Trek Outsole – Lightweight outsole compound with uncompromising grip, traction, and durability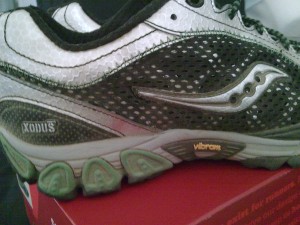 When I first got the Saucony's in the mail, I wanted to try them out right away. So I actually did my first test run with them on my regular running route, which is an all road path, which is not what the shoes were really made for. Right when I started running, it felt as if the shoes were heavy. But the thing is, my New Balances (12.5 oz) actually weigh more than the Saucony's (12.3 oz). I'm thinking what happened was when I first got the New Balances, I never noticed the weight of the shoes and I had just started running again. But since I was used to my New Balances and had worn them out quite a bit, switching to the Saucony's made the shoes feel a lot heavier by comparison. The weight of the shoes weren't really an issue though since I was still able to run a very fast time in the Saucony's that day: 5 mi / 33:30, 6:42 min/mile. But I had not really loosened the laces when I got them, so I had started to develop a blister on one of my toes, but when I ran on an actual trail, I didn't have that issue, which is good.
I have read about a few trails around my area that would have been pretty fun to try these shoes on, but it wouldn't have been the best idea to go there for the first time, not knowing what I would get myself into. Instead, I went back to where I ran my first race and try out the shoes there. The UCSD campus is filled with very forest-like areas and home to a lot of fun trails to run on too. The cross country team and other local high schools host meets on that trail, which is pretty cool. When I got to the trail, there were chalk marks on certain paths on the trail, so I decided to just follow that so that I wouldn't get lost in that forest.
Right when I started running on the trail, I noticed what my non-trail-running shoes were missing. The grip and comfort in the Saucony's were very nice. I remember when I was running the race on that trail, I had to constantly be aware of my surroundings and at the little holes, cracks and branches on the ground. But this time, I didn't have to worry about that and was actually able to enjoy the run and the view. The Vibram outsoles were really doing a great job on these hills (although my breathing and performance not too much..). According to Vibram, "the lugs on the outsoles give you uphill thrust and downhill braking" which is great because I knew many runners, including myself, that have had knee injuries from not running down hills properly, most likely because the shoes or the outsoles of those shoes just didn't have the support needed to handle those hills.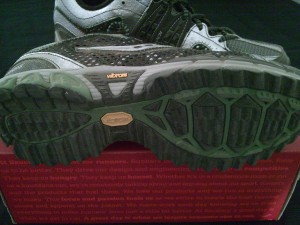 A bottom look at the Vibram Outsoles
What I've been reading online about Vibram outsoles is that they are "the most durable outsoles in the business, hands down." But they're very heavy, so what Vibram did was work with Saucony to provide the durability and protection people are used to with Vibram outsoles but at a much lighter weight. Together, what they came out with was the Saucony ProGrid Xodus Trail Running Shoes with Vibram Outsoles. And I do have to say, that was a very wise partnership and Runners World agreed as well.
Here are some additional pictures of the Saucony ProGrid Xodus Trail Shoes with Vibram Outsoles: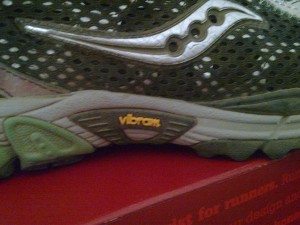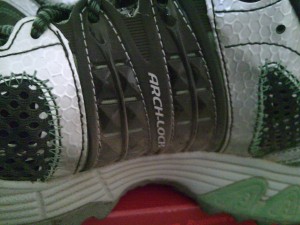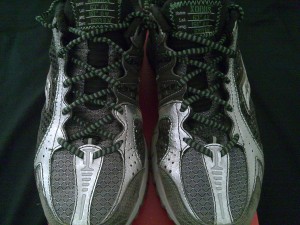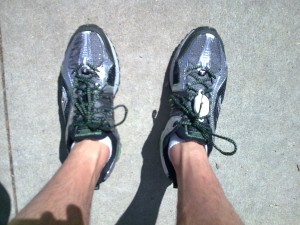 The usual action shot that I take of my running shoes.
Where to Buy: