Posted on May 26, 2015 under
Reviews
|
No Comment
I still remember wearing my first pair of Puma shoes back in high school. I forget the model name, but I believe they were just a regular pair of sneakers that I wear to school almost every day. They were pretty comfortable, but definitely lacked enough support to use as running shoes (although, I do recall a few times where I did use them that way as I was running to class to avoid the tardy bell). I don't even know if Puma made running shoes back then. But they do now, with this new Ignite collection. When I heard about it, I was skeptical since not all shoe companies can just up and be a running shoe company. There is a lot of research and testing involved to ensure you have a solid product that can last miles and miles of running that people put through their usual running shoes. But given their solid track record with soccer shoes and just regular sneakers, I thought that it wouldn't hurt to give them a chance.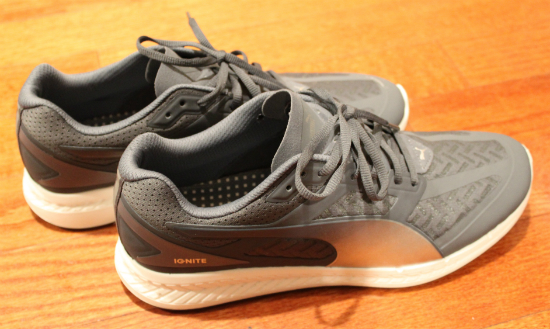 I went on an easy run with the Puma Ignite running shoes, along with their cool graphic t-shirt and mixed statement shorts. The first thing I noticed was that these shoes had much more support than I was used to in Puma shoes, which is really important for running shoes. I was able to get into a comfortable stride and go for 3 miles on the road without any issues. The shirt was light and also very comfortable and was able to wick my sweat quite easily. The shorts were the same as well, but the waistband took a while to get used to. It reminded me of a pair of boxing shorts! But they were light and included pockets which is a huge plus in my book.
Here are some additional details about the shoes and apparel I tested out, I would definitely recommend that people at least give Puma a chance and try them out if you're skeptical. It doesn't hurt to have another competitor in the running game.
Puma Ignite Running Shoes features:
Thermo-regulation technology helps keep the body at an optimal temperature; preserving energy. Athletes can focus that extra energy to be FASTER in their sport. IGNITE is a superior cushioning material that disperses impact while providing optimal responsiveness.
ENERGY RETURN: Full length IGNITED foam midsole's PUblend offers high rebound cushioning
STEP IN COMFORT: IGNITEfoam provides instant comfort where you need it most
LONG-LASTINGPERFORMANCE: Foreverfoam is used in the heel to disperse impact and provide extra durability
Puma Cool Graphic T-Shirt features:
coolCELL: highly functional materials draw sweat away from your skin while anatomically placed air-flow features offer you superior temperature regulation to keep you cool and dry during exercise
Innovative, allover pwrCOOL cooling print on the inside that activates with moisture to cool you down and reduce body temperature
Mesh inserts for improved air circulation at critical heat zones and comfort
Cleansport NXT finish to ensure odor control on an organic base
Flatlock stitching for less friction and higher comfort
Puma Mixed Statement Shorts features:
Mixed material knit tapered pant featuring woven overlay on lower leg inseam.
Side seam coil zipper on lower leg with woven welt.
Rouching at front knee on inseam and side seam. Back yoke.
Angled front pockets.
Rib knit waistband with inner draw cords exiting embroidered buttonholes.
DTM coverlock and bar tack detailing.
Pop color embroidered leaping cat logo at front leg.
100% polyester
This post is sponsored by FitFluential on behalf of PUMA.