How to Make a Race Medal Rack for less than $20!
According to my race reports page, I have ran almost 75 races since I started running again back in 2009. Ignoring how much I spent on race registration fees (a lot), it's obvious that I have a lot of race medals! I actually won a quite a few medals when I ran in cross country for 3 years as well. Winning medals in high school is probably a bigger deal than it is when you get them as an adult. Not every runner received a medal in high school, it was usually for the top finishers in your division, so I was quite proud when I won them. But I never really showcased them in a medal rack or display. In fact, after I graduated high school, I simply kept them in this box, which I wrote about in a previous post, Where are all your race medals?
So when I started running again a few years ago, I felt the need to put my medals in a display rack. I ordered a medal display rack online for $40 + $7 shipping. You can see how it looked like below, but I was very happy with the medal rack. It was most likely cut using very heavy duty machinery, so I knew it would have been impossible to create a medal rack like this. The problem with the medal rack I bought was that it only had one row and was only able to fit 8-12 race medals on it, and I had way more medals than that. What I ended up doing was stuffing more medals toward the middle of the rack and also on the buildings and runner above the rack! It was then that I knew I needed a new medal rack.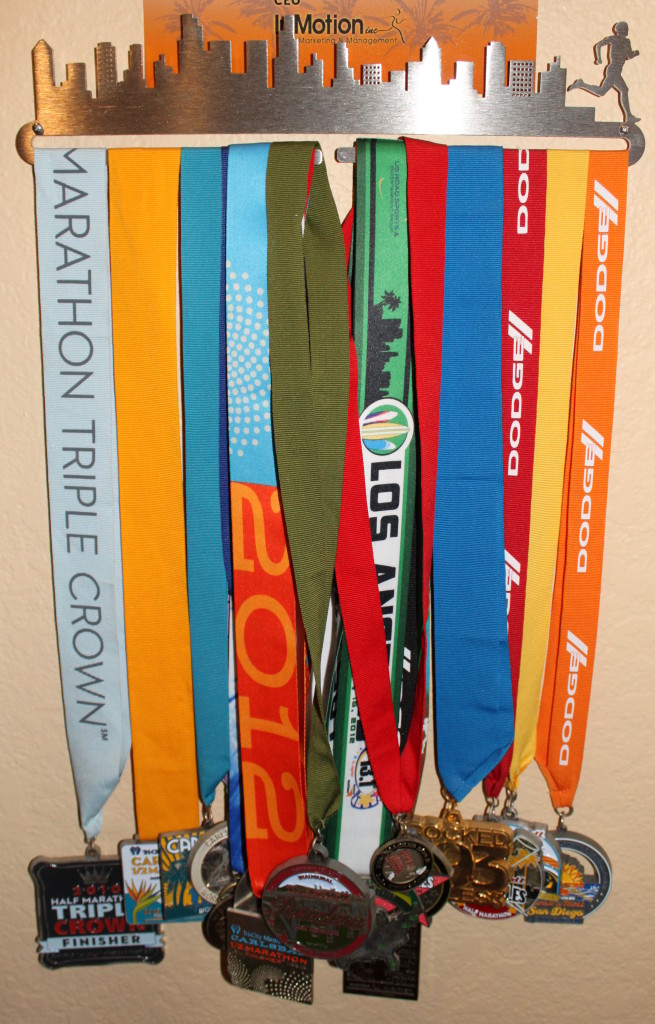 But I really didn't want to spend another $40+ on a new medal rack and decided to go the DIY route. So I looked up how to make a race display holder and found quite a few blog posts about that same topic. The two that I bookmarked was from Defining Hope and Pavement Runner. Both of these medal racks used a wood base, but I didn't really care, I just wanted something to hold all of my medals. I made a few trips to Michaels and Home Depot to get the supplies needed to make my own race medal display rack.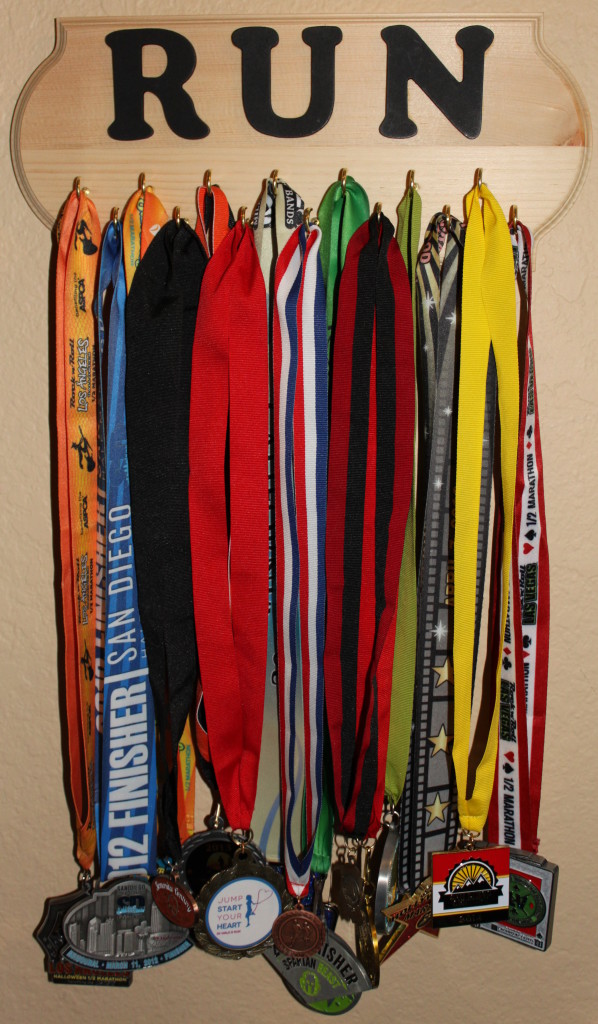 Race Medal Display Supplies
The first thing I bought was the base board for the medal rack, I actually found a few at Michaels (they should have these at any arts and craft store). They had a few different sizes and shapes, but I decided to go with the smallest one (pine plaque) they had available. The mounts took some time to find, most of the ones they had were the ones with medal wires for picture frames. I didn't want to put too much text on the medal rack, so I just bought the letters R, U, N in black. I then picked up a box of small hooks to hang the medals at Home Depot (spent way too long finding the right hooks there). Finally I picked up some wood glue at the local dollars store. And that's all I needed to make my own medal display rack! Here are the total costs for all items: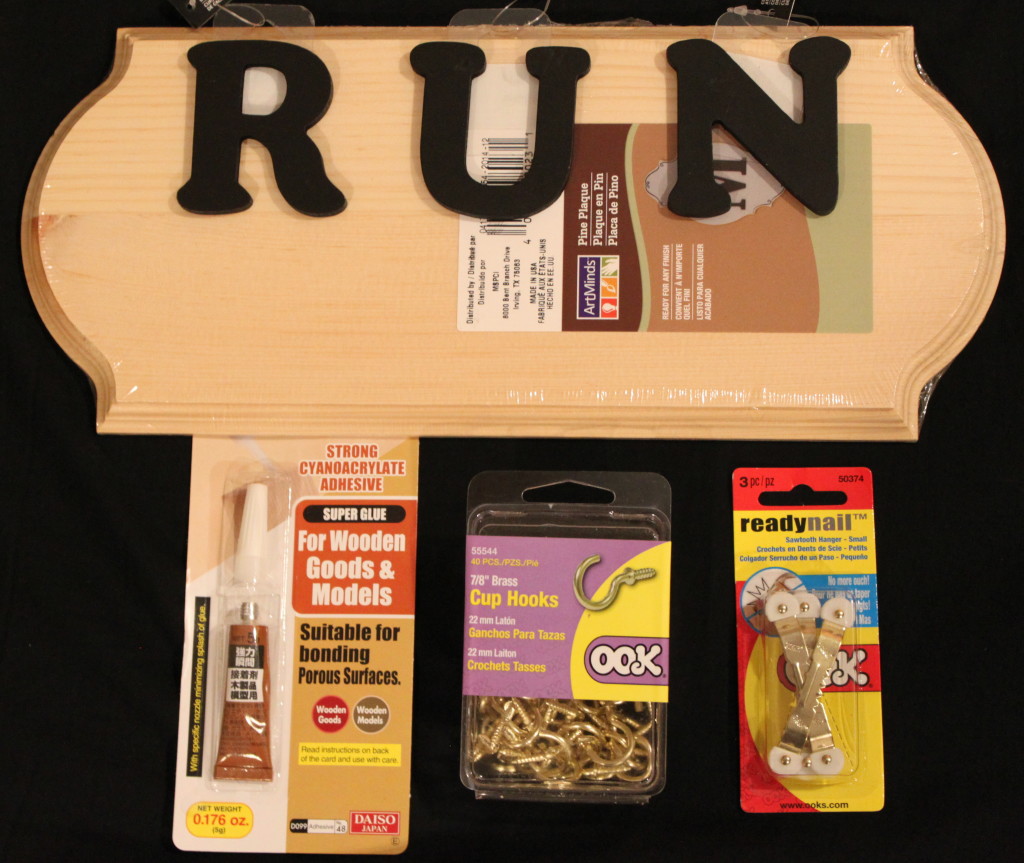 Medal display board: $6.99
Brackets: $3.99 (3 mounts, only used 1)
Hooks: $3.48 (box of 40, only used 14)
Letters: $2.97 (3 letters at $0.99 each)
Wood glue: $1.50
Total Cost: $18.93
How to make the Race Medal Display Rack
Marking the board for the hook placements
I'm a little OCD when it comes to measuring things, so I needed the placement of the hooks for my medal rack to be perfect! It took a while to figure out, but I basically drew 2 horizontal lines about 2 cm apart in pencil. I then marked 14 hash lines across both horizontal lines, again 2 cm apart. To make sure I didn't put a hook in the wrong mark, I started erasing every other dash for both lines. I wanted to make sure there were alternating hooks at the top and bottom rows. This probably took the longest time out of all the steps!
Adding hooks to the medal rack
Once I knew where the hooks were going to go, I tried adding the first one. Before that, I used a push pin to make a smaller hole then I twisted in the actual hook.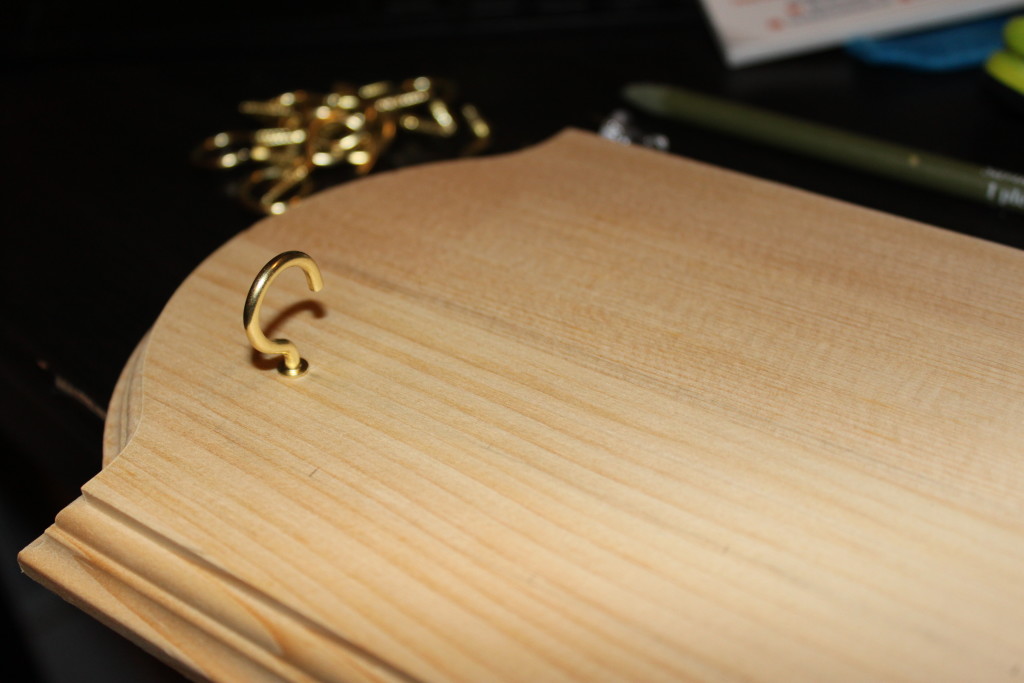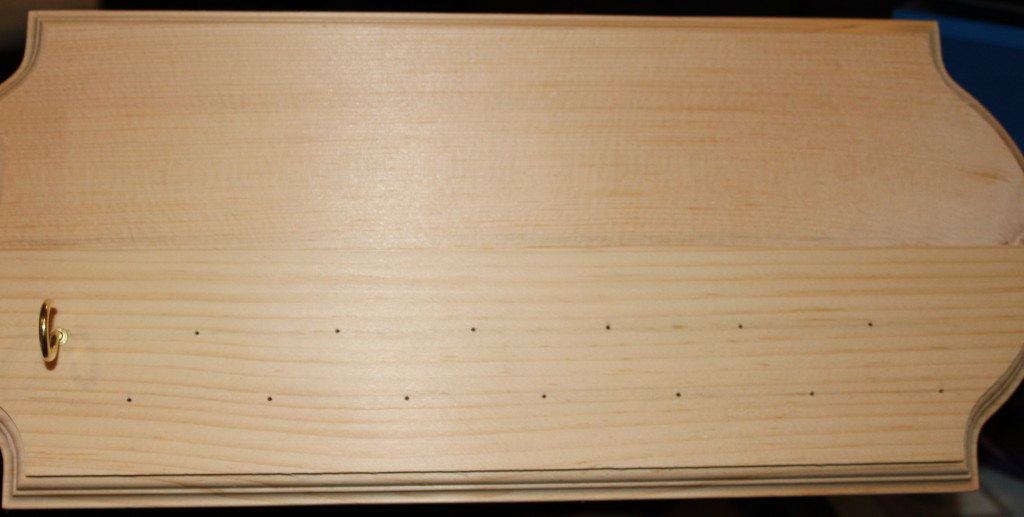 After push-pinning the rest of the marks, I was ready to add the hooks to the medal rack. The only reason this step took as long as it did was because my fingers were starting to hurt from twisting them into the board! I probably could have used a pair of pliers to help, but just continued using my hands. I was very pleased with the way it was turning out so far!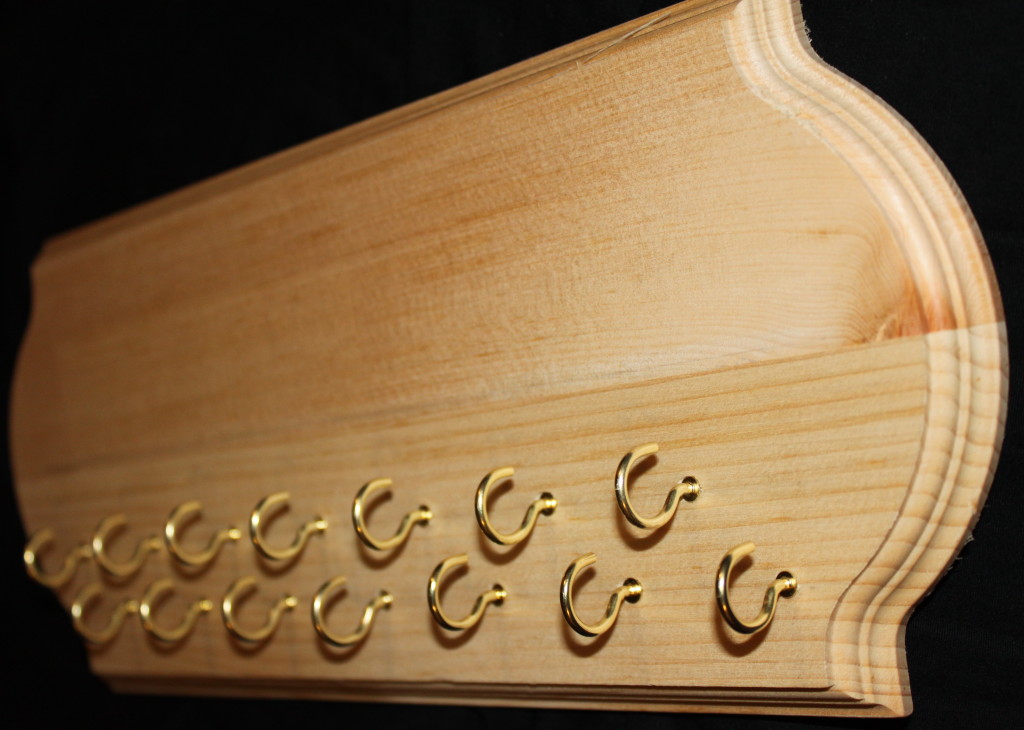 Adding the letters to the medal rack
So I'm not the most creative person when it comes to arts and crafts. I'm sure it would have been possible to write the letters directly on the medal rack, I know in one of the blog posts, the person spray painted the letters onto the board. But I went with the most basic word of "RUN" and glued those letters on.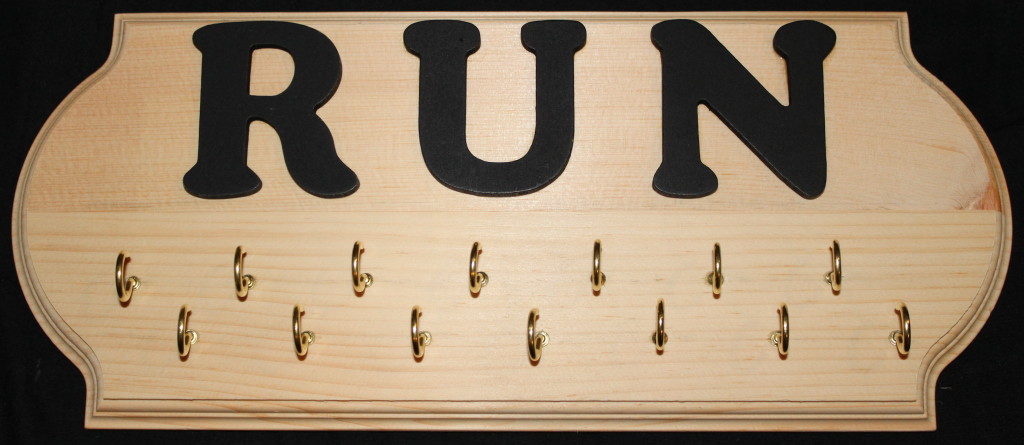 Adding the mount to the medal rack
The mount was the last thing needed to complete this project. What was nice about these mounts was that they came with small nails ready to be hammered onto whatever frame or board you had. I did some quick measurements and nailed the mount onto the back of the medal rack.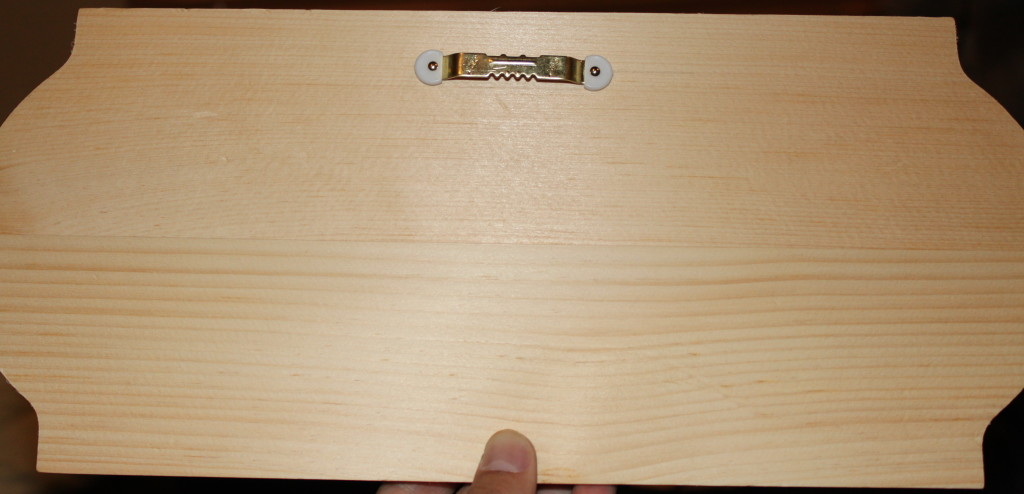 One last nail into the wall and my medal display rack was complete. This was by far, one of my favorite DIY projects I've done in a while. I was able to fit a lot more medals in this display rack, compared to the metal one that I bought before. And it was a lot cheaper too! Sure, it may not look as nice, but honestly, if you're looking at a race medal display, the last thing you're looking at is the actual display. Everyone will be admiring all of the awesome race medals you have won!