Posted on Jan 09, 2010 under
Reviews
|
4 Comments
I was asked from Invigorators to see if I was interested in testing and writing a review of the Invigorators Compression Socks. It was a great opportunity to test out and review different types of compression socks to find the pair that best fit me. I had previously tested and reviewed a pair of Zensah compression socks and was very pleased with the product. When asked to review the Invigorators Compression Socks, I needed to give my height and shoe size. The Invigorators came in a more custom fit, which is very helpful when you want to get the most of out your compression socks.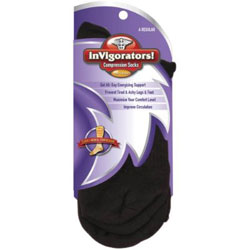 The Invigorators compression socks are extra long to allow full compression starting at my foot to my calf and all the way up to my knee. There is extra padding around the toes and heels for people who need to stand a lot or are on their feet a lot during the day. Washing the compression socks always helped give a new tight/snug fit each time I wore them, which is nice. It was like wearing a new pair of socks each time. Another simple, but nice feature is the color. The solid black color, like the Zensah compression socks, made it very easy to wear at work without standing out too much. This allows me to get a full 9-5 recovery whenever it's necessary. It's not a big deal because it's also possible to wear the compression socks at night while sleeping.
Compression socks, as well as other types of compression apparel seems to be a new fad for the running and athletic community. I've been lucky enough to be able to test and review different compression socks to know how well they work. Compression socks in particular help in recovery after long runs, interval workouts or doing anything that involves excessive walking or standing. I don't travel very often, but I've heard that it takes its toll on people, specifically on their feet. Compression socks are supposed to help something called deep vein thrombosis (DVT). In addition, they help improve circulation around your feet and calves, pumping much needed blood into your legs from the rest of your body. They also help reduce soreness and tired legs after a long day or hard workout.
Where to Buy Invigorators Compression Socks


Additional Information on the Invigorators Compression Socks
Product Description
Take a stand! Medical grade, graduated compression socks for people on their feet. Provides all-day energizing support. Prevents tired, achy feet & legs. Improves circulation. Maximizes comfort level. Class 1 medical grade compression reduces the incidence and discomfort of varicose veins, spider veins, deep vein thrombosis and shin splints. Content: 66% nylon; 20% cotton; 14% spandex. Made in the USA. Patent pending. Need an extra wide cut? Try Size E Tall for individuals over a height of 5'8″– women's shoe size 11-13; men's shoe size 12-14.
The Invigorators Difference
Only Invigorators have a patented design and graduated compression that starts at the ankle and supports circulation progressively to the knee. The easy weave takes pressure off muscles of the foot and lower leg. The Y-heel construction provides the best heel fit. Light compression around the arch provides support and a secure fit.
Additional comfort is provided by:
* No-rub seam across toe
* Non-rolling edge at the top of sock
* Anchor weave prevents binding at the ankle
* Double knit cotton toe and heel for cushioned comfort
No other compression sock offers this quality. No other sock comes with the Fromm Lifetime Guarantee against manufacturer defects. No other medical grade compression sock is made in the USA.
How do compression socks work?
Your lower legs have special valves. Found nowhere else in the body, these valves help return blood to the upper portion of the body to be re-oxygenated and nourished in the lungs. With age, these valves naturally expand and loose their ability to effectively push blood up the leg. Other conditions, such as arthritis, pregnancy, varicose veins, and more, can diminish the ability of these valves to work effectively. Compressions socks support these valves to improve circulation.
What is Class 1 Medical Compression?
Medical compression is measured in millimeters of mercury (mmHg) in the same way that mercury is used in a thermometer to measure temperature. The higher the number of mmHg, the greater the amount of mercury is by the compression of the fabric. A higher number represents stronger compression.
Class 1 Medical Grade compression is recommended for active people who need extra support. Only medical grade compression socks maintain optimum circulation reducing the incidence of varicose veins, spider veins, deep vein thrombosis and shin splints.
Why is good circulation so important?
Poor circulation causes blood to pool in the legs, putting pressure on veins and sometimes causing varicose and spider veins.
Improved circulation:
* Alleviates sore, tired and achy legs and feet
* Reduces swelling
* Ensures muscles and ligaments receive oxygen and nourishment
* Increases feeling of well-being and stamina
* Minimizes the incidence of varicose veins, spider veins, deep vein thrombosis & shin splints