Posted on Dec 13, 2014 under
Reviews
|
No Comment
This has been an interesting time to be a running blogger. I have been getting a lot of holiday gift guide requests from relevant and completely random companies. I've definitely found some products more useful than others, but it was still fun to try new things that I've never heard of or would have using unless I was actually sent them. Hopefully some of these last minute gift ideas will be useful.
Running Gear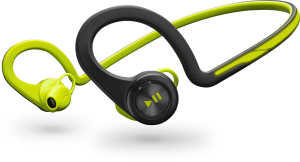 BackBeat FIT, wireless fitness-focused earbuds are ready for any workout fan, and the gift giver can be happy knowing that they offer safety features for outdoor athletes.
I've tested quite a few wireless, Bluetooth headsets before and these are hands down, the best ones I've used. There are a couple of criteria that make a good pair of wireless, Bluetooth headphones: weight, connectivity, usability, battery life, water/sweat resistance. These only weigh 24 grams, are very easy to connect to your device, wrap around the ear so they never fall off while in use and last up to 8 hours with constant audio status alerts of battery life. The most important feature for me is definitely weight and staying in my ears while in use. The Platntronics BackBeat FIT do all of that and more.
Buy now on Amazon.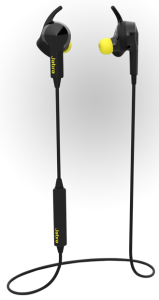 Jabra Sport Pulse Wireless, new wireless, Bluetooth earbuds – and an all-in-one training solution with Jabra Sport Life application. Combining an in-ear biometric heart rate monitor, immersive Dolby® Digital sound and real-time voice coaching, Jabra Sport Pulse Wireless will inspire runners, cyclists, and exercisers of all types to beat their best performance.
I've tested quite a few pairs of Jabra headsets in the past. Although they are great in terms of build quality, sound and battery life, I could never use them on runs because they would always fall off my ear. But the new Sport Pulse Wireless comes with these eargels that make it so they never fall out of your ears, and they seem work! The unique feature in these headphones are the integrated heart rate monitor in one of the headphones, no need for the extra chest strap. I've tested the heart rate monitor feature a few times and it does seem to work, but will lose connectivity every now and then. You'll also need to use a separate Jabra Sport Life app to utilize the heart rate monitor features.
Buy now on Amazon.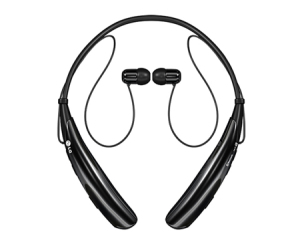 The LG TONE headset's ergonomic 3D NeckBehind (Around-The-Neck Wearing Style with Body-Contoured Fit) design provides a comfortable, curved fit. It's light as well as powerful, with long talk and music play times, and provides a natural feel through all-day wear and use.
These are probably the most unique wireless headphones I've used in a while. It has this base that rests on your neck and the earbuds look like regular earbuds that are connected via a magnet but pull out. The base is pretty light, so you don't really notice it on your neck, the only problem I had with them is that the base bounces like crazy! So much that it hurts my collar bone while running. I've tried to prevent the bouncing by tucking it underneath my shirt while running, but it never stays under. I'd really love to continue using these (for my runs) but that bouncing seems unavoidable. These would probably be fine for just workouts though, just avoid the treadmill!
Buy now on Amazon.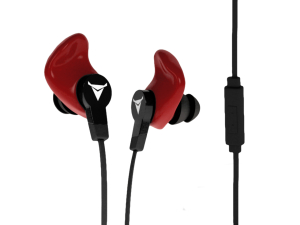 Released earlier this year, runners are quickly becoming loyal to the custom-molded earphone system, the only re-moldable solution on the market. Unlike other "customizable" headphones that feature the standard interchangeable tips and ear hooks, the Decibullz Contour thermoplastic molds actually form-fit to your ear.
A big complaint I have about earbuds is that they cannot stay in my ears when I'm running with them. I know some people can't even use certain earbuds because their ears are too small. The Decibullz seems like the perfect solution for everybody since you custom mold the earbuds to your own ear shape. It does take some time to 'heat' up the earbud pieces, but once you get them set up, you should be good to go!
Buy now on Amazon.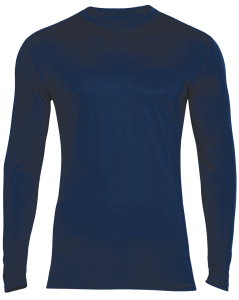 We take inspiration from the natural world to design the super.natural collection of intelligent, stylish performance apparel. We journey through global cultures from the city to the mountain in pursuit of our ambitions. super.natural apparel provides the perfect balance of comfort and performance to meet our needs in every environment. We created super.natural to meet the demands of our active lives through the fusion of nature, technology and design.
Any apparel that uses materials other than cotton is a good in my book. 100% of the super.natural line is made from a blend of Merino Wool with Polyester or Lycra. The shirt that I tested felt soft and stretchy but not to the point where it felt like it would after one wash. I've already worn the shirt on a few runs and even during a vigorous game of soccer and it's held up just fine.
Buy now on Amazon.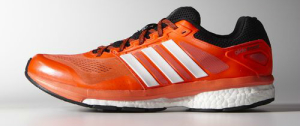 Harness the power of boost™ midsole cushioning to super-charge your stride in these men's running shoes. Updated for a premium fit and feel, the shoes have TORSION® SYSTEM support and a Continental™ Rubber outsole for gripping wet pavement. The men's Supernova Glide Boost is designed for technical perfection with subtle updates including a more lightweight midfoot and forefoot overlay to provide a more secure fit.
Adidas is unlike other running shoe companies in that they release new iterations of their shoes in much quicker intervals that other companies (typically annually). But each time they seem to find a way to make their shoes lighter, more advanced or find some way to make the shoes even more efficient. I've ran in the Supernova Glide Boost a few times now and they are super comfortable while looking stylish at the same time. These shoes also feature the revolutionary boost technology, allowing you to run faster with less effort and more support.
Buy now on Amazon.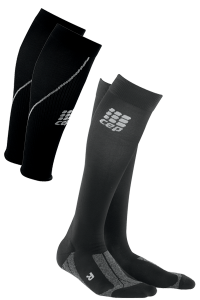 CEP compression socks can help improve blood circulation, increase muscle support, reduce muscle strain and shorten recovery time, allowing athletes to perform more efficiently for a longer period of time, thanks to CEP's graduated compression technology.
I've always been a fan of compression socks, although I don't wear them that often. But when I do remember to wear them, it's usually have a tough workout and race. It definitely helps reduce soreness and speeds up my recovery.
Buy now on Amazon.
Bombas, a line of athletic-leisure socks re-engineered to look better, feel better, perform better and with a mission to help those in need, which make a great stocking stuffer or a gift that gives back this holiday season or simply for your everyday workout!
Bombas came up with seven improvements to the design, look and feel of the traditional athletic sock. The result is the most comfortable and thoughtfully designed sock on the market for men, women and kids, at an accessible price. Additionally, because socks are the #1 most requested item at homeless shelters, for every pair purchased, they donate a pair of socks to someone in need. To date (since launching in October 2013), they've donated more than 150,000 pairs of socks specifically to meet the needs of people on the street.
I don't think I'm very picky when it comes to socks. As long as they're comfortable, I'm happy. These socks are made of Long Staple Peruvian Pima Cotton, and although I'm not a fan of cotton, this seems like a unique type that is softer than usual. I initially requested non-calf socks since most of the ones I've tried fail to stay up. I was reassured that the Bombas calf socks have been tested with 172 levels of tension, so they stay up, aren't too tight and don't fall down. I'm happy to report that the socks did not fall down while wearing them, definitely a plus!
RUN 2.0 Series are performance running socks designed to maximize your skill without sacrificing your personal comfort. The running toe socks reduce friction and sweat buildup while allowing your toes to splay and align naturally for increased comfort, balance, and performance. Injinji's toe socks for running fit inside any shoe for any running style, whether you're a marathon runner, occasional jogger, or even prefer to walk.
If these socks were not so darn hard to put on and didn't look weird while wearing with sandals, I'd probably wear them all the time! But I still try to wear them every now and then, either on a hard race or trail run, or just when I'm hanging out at home and feel like wearing special socks on a cold day. Injinji is known for their unique toe socks, don't even bother with the knockoffs (if they even have them..)
Buy now on Amazon.

A great all-round model perfect for casual and everyday footwear. Offers great shock absorption and comfort with light support. Self-molding technology allows you to self-customize these innovative footbeds at home in one of two ways: wear or heat mold.
I don't change my insoles often, but when I do, they make my shoes feel like new! And it's always surprising to see how worn out my old insoles are. I really need to make a reminder to change them and change them often.
Buy now on Amazon.
Books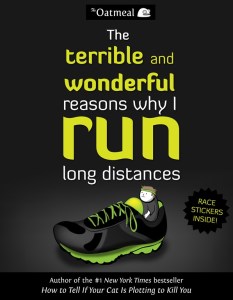 This hilarious, beautiful, poignant collection features comics and stories about running, but it's about much more than that. It's about gorging, napping, sweating, Godzilla, Ranch dressing, suffering, cupcakes, and all the awful and awesome – the terrible and wonderful – reasons we wake up each day and propel our bodies through rain, shine, heaven, and hell.
Super easy read, but ridiculously hilarious. I actually pre-ordered this book when I learned that Inman was a runner. Highly recommend runners (non-runner comic fans) pick this one up.
Buy now on Amazon.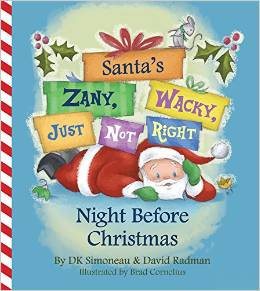 A whimsical tale of Santa's journey through a Christmas Eve that doesn't go as he expects.  One small event leads to a series of surprises that change Santa and Christmas as we know it. It's a story to spark the imagination, make kids giggle, and bring a smile even to a grownup's face!  Here is a story that even grownup will relate to and enjoy.
Hopefully, my nephew will enjoy this one! Buy now on Amazon.
Pine Tree Publishing is a small family owned business, also doing business as Pine Tree Toyshop and The Magic Christmas Key. Located in Grove City, Pennsylvania, Pine Tree Publishing is committed to creating products that make memories for children and families.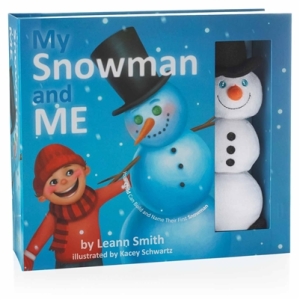 My Snowman and Me is a delightful story for young children introducing the magic and wonder of building a snowman. In simple words, perfect for a beginning reader, the story shows what the snowman can be, and that in spite of the warm sun and the snowman melting, he will always come back, whenever it snows.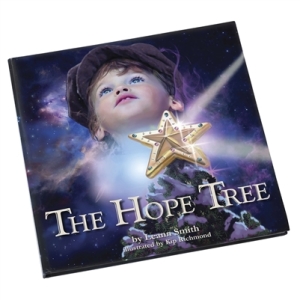 A special story about the difference one small boy makes in the town of Hope at Christmas.
The Magic Christmas Key Book and Key – Leann B Smith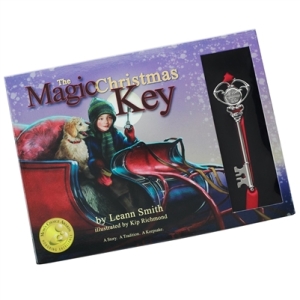 A MAGIC KEY from Santa! Plus an award winning hardback book, and a keepsake gift box.
Miscellaneous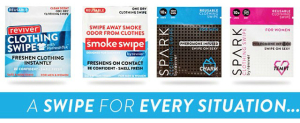 Whether it is food, sweat, smelly spit up, smoke or everyday stenches, life's smells can get the best of us. Enter Reviver: the world's first on-the-go odor eliminating dry swipe for clothes and hair. Each non-toxic reusable swipe comes in a re-sealable pack that is small enough to fit in a purse, diaper bag, wallet, pocket or gym bag for instant freshness anytime, anywhere. Affordable, dry and effective, each swipe delivers over 10 treatments, freshening clothes between washings.
Reminds me of a reusable sheet of dryer lint, but in a more practical shape and size. I don't know the 'science' behind it, but I'm assuming you're basically rubbing scent and smells over your clothes to mask away the smell. I was able to test this out after a long and smelly night of all you can eat Korean BBQ. Because you are sitting in front of a personal grill, cooking your own food, you'll usually walk out stuffed but smelling like a barbeque. I rubbed one of the Revivers that I kept in my pocket and it seemed to remove most (if not all) of the smell from dinner. I think another good test is to try it on a smoker, I always notice a smoker when I walk by them.
Buy now on Amazon.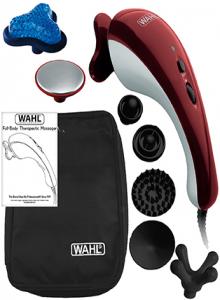 This new temperature therapy massager provides soothing massage along with hot and cold temperatures. The heat therapy increases blood flow and loosen muscles, while the cold therapy is used to reduce muscle swelling and inflammation, and massage helps to relieve muscle tension and soreness. Hot Cold Therapy Massager is a corded massager with variable intensity for light or intense massage. Comes complete with 7 attachment heads plus a heat and cold attachment. All packaged in a deluxe soft zippered storage case.
I've never owned a hand massager before, so I have nothing to compare this to (other than the times I visited a Brookstone and played around with the floor samples..) I also didn't know Wahl made massagers, I do own a hair clipper set from them though. Overall, this seems like a nice hand massager, although it didn't get very warm when I'ved used it. It's pretty flexible and I've been using it on my back and legs, mostly. The additional attachments and carrying case is a nice bonus too!
Buy now on Amazon.
The Braun cruZer is right on target when it comes to fine-tuning your style. Featuring a trimming head with extra-fine teeth, this versatile styling tool gives you the freedom of customized precision work. No matter if you want to style or trim your side- burns, mustache or any other details of your facial hair, the cruZer is a great tool to add the finishing touches to your style.
I'm sure this works fairly well, I don't have a beard or mustache so it was hard to tell. I did use it a few times to help touch up my sideburns that were a little uneven. This actually reminds me of a razor I had a few years ago that had a battery powered trimmer on the handle. The Braun CruZer comes with a nice base stand though.
Buy now on Amazon.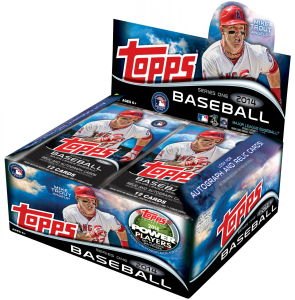 Whether kids or adults are obsessed with football or are a huge baseball follower, Topps has something to stuff everyone's stocking with this year. The iconic TOPPS Baseball and Football Foil Packs offer a variety of athlete cards inside. The TOPPS Baseball and Football foil packs are available at hobby shops, Wal-Mart, Target, Toys "R" Us and Topps.com for a suggested retail price of $1.99 per pack.
Talk about blast from the past, I haven't seen these things in years! I have a few friends who are baseball fans, so I'm sure they will get a kick out of these foil packs.
Buy now on Amazon.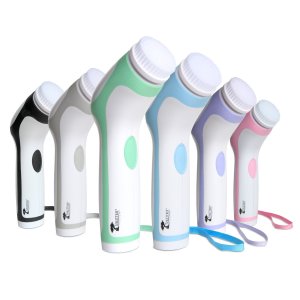 Now you can enjoy the rejuvenating spa and dermatologist experiences at home- at a fraction of the cost. This Professional Skin Care System by ToiletTree Products is an advanced daily cleansing tool that helps polish away dull skin and gently exfoliates away impurities that traditional cleansing leaves behind. The result? Wonderfully cleaner, softer, radiant looking skin.
Makes washing your face much easier using the rotating brushes and more effective and efficient.
Buy now on Amazon.