Posted on Dec 15, 2009 under
Reviews
|
2 Comments
I was sent a much needed new running wardrobe (a long time ago..) from lululemon athletica to test and review. Before getting the tech tee and running shorts, I would usually wear a plain white (cotton) tee and basketball shorts for all my runs. It actually wasn't that bad, I didn't really have any issues with them before. I know other runners sometimes will have issues like chaffing when running longer miles which I can only assume is quite uncomfortable. And as far as running with basketball shorts, I do agree that they were a little on the heavy side and had no safe place to store keys or other personal belongings. I probably could have survived without actual running shorts and a shirt. But these are just little things that can help make a big difference in the long run (literally and figuratively).
lululemon athletica has been around for over 10 years, mainly selling technical yoga clothes and apparel, but also clothes for running, dancing, and other sports. There are a few locations around my area, and I've seen a couple of people using the very brightly colored durable tote bags.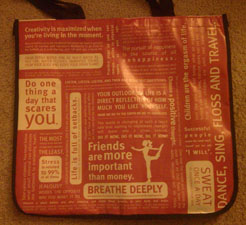 lululemon Metal Vent Tech SS – Running Shirt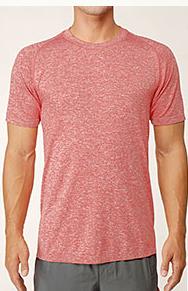 Why We Made This:
Performance top with integrated mesh venting for high breathability and heat management
Anti-stink Silverescent™ using X-Static, the silver fiber
Seamless body construction and flat seamed for chafe resistant wearing experiences
Preshrunk for sizing confidence
Wicking/quick dry
Unlike my cotton tee, this tech tee is made of: 44% polyester, 46% nylon, 7% x-static silver nylon and 3% spandex. It's longer than shirts I usually wear, but it's still fairly light. There are tiny ventilation holes around the armpit; upper and lower back areas to help sweat escape the shirt easier, I could only assume since there is where I do sweat most. I have noticed that my cotton tee would be very heavy after a run, but the tech tee would be significantly lighter, probably because of all that wicking action going on, which is nice. Overall, it's a nice tech tee for my longer runs.
On a side note, I noticed some random quotes on the inner part of the bottom of the shirt. So if you're wiping your face with the inside of the bottom of the tee, you'll see the quotes.
"Visualize your victory"
"Realize your goals"
"Believe in yourself"
"And make sure to drink a beer or two along the way"
Pretty funny if you ask me 🙂
RUN:Response Short – Running Shorts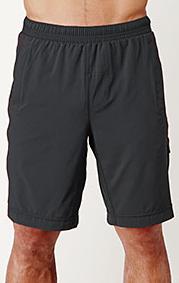 Why We Made This:
All-sport short built to fit hockey butt
Don't worry about wearing underwear — we built it in for you!
Non-chafing flat-seamed liner keeps the family jewels in place
Secure zip pocket for your valuables
Elastic waistband with drawstring that won't pull out
Mesh paneling for added ventilation
Moisture wicking
The very first thing I noticed when I got these shorts was that there was a secure zipper pocket! It's one of the most important things I look for in running shorts, just because I never liked hiding my key under my welcome mat or under my car tire. This also allows me to carry other important things like my ID or money. You'd think the 'built in' underwear would be a very convenient feature, but for someone who has been used to wearing boxers trying to switch to running in what I would call boxer-briefs, it's quite a transition. I've never ran in tights before, but I think that's how they would feel and they sort of rode up while running so at the end of the run, I could actually have to adjust it by pulling the leg part down. But that is something that I just have to get used to. The actual fabric of the shorts is nice: 86% recycled polyester and 14% spandex. There are vents along the leg of the shorts as well as around the butt area behind. The two additional pockets in the front are just an added feature.
The combination of the tech tee and running shorts are really nice to have: I don't have to worry about chaffing or being soaked in sweat and I could actually store valuables in the secure zippered pocket.