Posted on Apr 13, 2009 under
Random
|
8 Comments
Workout: 2 lap warm-up, 1 mile "Race", 2 lap cool-down
Time: 6:02 Weather/Condition: Windy on the last 100 meters of the track
Best Week Ever!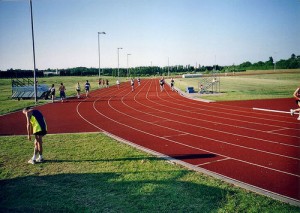 I'm going to make a live post today, rather than going to my journal. The only reason for doing so is because I actually had a race-like run the other day and I really wanted to say something about the current events that are going on. Feel free to read the first part and ignore the rest, which is my little rant. 🙂
So this past week was the first time I ran 3 days in a row, which is quite an accomplishment for me, considering how I used to run so many miles 6-7 times a week back in high school. The first run wasn't that special, I didn't even time it because I wasn't try to break any records or anything, just put in some miles and break a sweat and get used to waking up in the morning. During the 2nd day though, I ran the fastest time (only three laps around the block which is the only place I can run considering the time constraints) since I started doing this route. WalkJogRun says it's a little under 3 miles, but I have a feeling it's not, looking back at the times. The final time was about 9 seconds faster than my previous best. Why did I run so fast on this particular day?
I ran into another runner half way through the first lap, which is rare because the only people I see during these runs are high school kids walking to class. The runner was ahead of me by like 10 feet or so for a while and I guess he heard me running behind him, so he actually jumped off the sidewalk and motioned me to pass him. The pace he was going at wasn't bad at all, but I felt obligated to do so, even though I would have been just as happy running behind/next to him. So I sped up and passed him, but I didn't want to slow down and have him pass me later on, so I kept running at the faster pace I ran when I passed him. There was a slight hint of fear of him passing me which caused me to run the fastest first lap ever, 30+ seconds faster! I kept up a good pace on the second lap, (which is surprising I wasn't too tired from the first lap) and then finished strong on the third lap.
I don't know how or remember why, but I ran even faster the next day. I knew that I always run the first lap slow, so I consciously tried to run a little faster the first lap, so that I could run a more evenly-paced run. The first lap was a lot faster than most of my first laps and again, I kept it up the second and finished the last lap very strong (best last lap ever!). So I finished over 30 seconds faster than the previous run (which was just yesterday).
Personal Challenge: Me vs Mile
I wanted to see where I stood compared to when I ran everyday in high school. The only way I knew how to do that was to test myself and see how fast I can really run. I don't think I'm in shape to race (well) on anything more than a mile, so that is exactly what I did. I tried to make the mile feel as much like a race as possible. So I warmed up (only two laps around the track though) and then did some running stretches. I didn't want weigh myself down, so I decided to wear my watch rather than hold it, as ugly and bulky as it is and hide my keys (link to future post about where to hide keys while running) under some grass/bush area by the side of the track.
Side note: When I first got to the track there were a couple of people there including one guy who was using those parachute things! I've always wanted to try it and for some reason, I was hoping he would ask if I wanted to try it out. That didn't happen though. And when I hid my keys, that guy kept walking in that direction and the paranoid person that I am, I thought something was going to happen. But he was just drinking water (fountain was 5 feet away).
There was also a group of guys and young boys sort of messing around the high jump area, 2 athletic men in tights doing some type of sprints or just jogging after a workout, an older woman doing laps and a younger woman who looked like she was doing 400's but not sprinting or anything although she was timing it.
Because there were others around the track, even though they probably weren't looking at me, I felt more compelled to try even more and run the fastest I could. They were like my audience 🙂
Back to the "Race"
So after the warm-up and stretching, I finally started the 'race'. I was listening to my iPod during the run, which I've never really done in a real race. I don't think it helped much, but during the final 100 meters, it did start playing Tom Petty's "I Won't Back Down" (another future post about running/inspirational music). I tried to remember how to start a race, but I didn't start as fast as I usually do for a race, however my first lap overall was a lot faster than I should have ran it (1:20, which would have equaled a 5:20 mile..waaay too fast for someone in my current condition).
My next two laps slowed down significantly (1:32 and 1:43). I think my coach told us that the third lap is usually the slowest and that is the mile that you should be pushing the hardest and where you will be able to pass the most people. My last lap was faster than the previous two, thanks to the kick at the very end.
Some other things to note: It did feel very much like a race in that: I was very tired after running the mile, I did feel like I had to puke after the run, and my arms were very tired from pumping back and forth so fast, and the kick, of course. In the back of my mind, I thought I would hit around 6 minutes, so I'm not that disappointed that I didn't break 6. I'll have plenty more opportunities to do that in the future.
My Rant…
I was reading the newspaper today and actually read the full articles rather than headlines like I usually do and realized how sad the world is right now (or still is). I used to like watching the local news at night, but they were almost always filled with stories about people dying or getting robbed or hurt, which just got depressing. Why would I look forward to watching an hour full of all this pain and suffering?
But it's still important to be aware of what is going on with the world today and I've started getting the newspaper delivered to my place. In the past, I usually only read one or two articles before I got tired of reading the same, sad news. But today, I read almost all of the articles in the first section and it's just amazing how much goes on outside your own comfort zone. When you think how bad you have it at any point in the future, just pick up a newspaper and read any of the articles.
Here is a quick summary of some of the articles I read in this one section of the newspaper alone:
"Investors are duped in condo scheme" – Units investors financed are in foreclosure, their once stellar credit was ruined and they never received a dime from it.
"Earthquake victims mourned in Italy" – During the ceremony, you'll see tiny coffins of children that were placed atop those of a parent. Many showed color photos of the dead in the full bloom of life. One carried a simple note, written in pencil on a page torn from a diary: "I love you."
"Pirates foil U.S. captain's escape attempt" – Got a breaking news email saying that the captain had been rescued, but reading this Saturday morning article… A separate piracy incident occurred during the same time with the pirates holding five people hostage, including a 3 year-old boy. During the recapture, the yacht's owner and father of the boy was killed. The family had put all their savings into the yacht to leave most material trappings behind last summer to show their son that 'you don't need Christmas-present catalogs, magic cereals, Spider-Man and Dora to be happy," according to messages posted on their blog about the trip (want to find that blog)
"Judge orders man's execution for killing yacht owners at sea" – Skylar Deleon feigned interest in buying a couple's nearly half-million-dollar yacht and killed them during a test cruise out of Newport Harbour. Bodies were never found (supposedly tied to an anchor and thrown overboard). The son of the deceased said that he hoped that the Deleon's two children would never know what their father did, or how he used his young daughter to help win the trust of the Arizona couple before heading out to sea.
"Tornado kills mom, baby in central Tenn." – Makes me happy and grateful to live in SD where it's not as bad (other than occasional fires and very rare earthquakes).
"La. cop's slaying of man, 73, protested" – Two white police officers approached Bernard Monroe's (black) home during a barbeque looking for his son who they claim was involved in a drug deal. His son was tasered and seeing the commotion, Monroe confronted the officer (he had been rendered mute after losing his larynx to cancer). Police said that Monroe advanced on them with a pistol and an officer in the house shot him through a screen door. Friends and family said he was holding a sports drink bottle. They accuse police of planting a gun he owned next to his body. Amazing how race is still prevalent in many states.
"Huge excess of young men seen as problem in China" – China has 32 million more young men than young women – a gender gap that could lead to increasing crime – because parents facing strict birth limits abort female fetuses to have a son, a study released yesterday said.
"Man meets heroes who saved him" – Two San Diego firefighters rescued Andreas Hess during the 2007 wildfires. He was trapped and thought it was the end, so he called his wife to say goodbye. At that moment, he saw the two fire fighters who were able to rescue him. They probably rescued half a dozen people that night. When they finally did meet again Andreas, 51, admits he was speechless. "You don't know how to thank people for putting their lives on the line, for getting you out of a life-threatening situation. What do you do to show your appreciation? I thank them from all my heart."
That last article was the only non-depressing one that I read which is good that I read it last. I run by a fire fighter station every morning and have even more respect for them now than ever before.