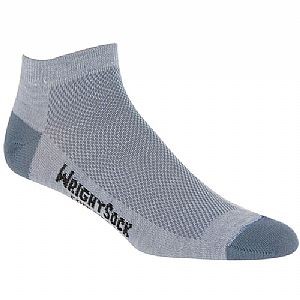 I always wonder how different sock companies differentiate themselves from the rest and even better, stand out above them all. Wrightsock offers  a wide variety of double layer socks that provide added comfort and protection for all types of activities. This is the first pair of socks that I've worn that is basically two socks in one. The 3 core features of their double layer socks are moisture management, temperature regulation and friction reduction.
Wrightsock did more than stick 2 pairs of socks together and sew them into one. Each layer is unique with individual features. The outer layer is constructed of performance fibers specific to each activity. The outside layer works together with the inner layer to help prevent blisters and traps air between the two layers for insulation from heat and cold.
The inner layer utilizes Dri-Wright technology which wicks moisture away for cool, dry feet. There's also a patented 3rd attachments which keeps socks properly aligned.
My first impressions of the Wrightsock CoolMesh Low Quarter Socks were that they were thicker than any other socks I've worn in the past. I was afraid that because of this thickness, it would cause even more heat and moisture than prevent it. And when I realized that there were two layers, I wondered how the inner layer would stay in place while in use, but after quite a few runs, I can confirm that they always do stick together.
I'm fortunate to not have too many issues with blisters, chaffing and hotspots while running. But there have been a few occasions where I did get blisters after a long run or from a trail run or race. I haven't had any issues while wearing the Wrightsock CoolMesh Low Quarter Socks, which the easiest way I can tell whether or not to continue wearing a pair of socks.
Where to Buy: