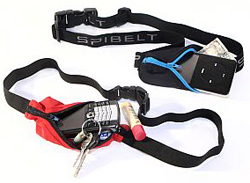 I was given the opportunity to test and review the SPIbelt, which is short for the "small personal item" belt. It's funny because when I first started running again a little over two years ago, all I had was my running shoes and stopwatch. But since then, I have found more and more items that I carry with me on my runs. I do have shorts with pockets, but have had issues of the items bouncing around and sometimes even scratching my leg while running. And I've never liked holding anything while on my runs because I get distracted and prefer to have my fingers free and relaxed.
The SPIbelt is designed and constructed in a way to hold a lot more items than you would expect. It is sort of stretched, so if you only need to put one item in there for example, your cell phone, then it'll fit in the SPIbelt quite snug as if it were made just for that item! However, if you really need to pack it in, it'll do the job as well. Mine even has a mesh slot for cash, credit cards or an ID. On one run, I was able to hold my cell phone, a small snack, as well as my car keys. I was able to fit a pack of PowerBar Energy Gel Blasts and even my entire wallet, although that was strictly for testing purposes.
In addition to being able to fit a ridiculous number of items, the great differentiator for the SPIbelt is its ability to stay in place while you are working out or running. Once I start running, I never even notice it on me and I never feel it bouncing. Everything has its limits though, I would not try and attempt to put the entire contents of your purse inside the SPIbelt and not expect it to bounce a little. But for the things I have tried to put in there, it has worked very well.
The adjustable strap is a great feature that makes it fit people of all sizes. I was lucky enough to have it arrive fitted to my size so I didn't have to tinker with the strap. You can put it on and take it off with ease using its heavy duty snap-on buckle. What I also like about the SPIbelt is the zipper. Not all zippers work the same and some are harder to open and close than others. The zippers on the SPIbelt are very large and open and close very easily. It doesn't seem like a big deal, but if you are trying to get something out while on a run, the last thing you want to worry about is dealing with a jammed zipper.
All in all, the SPIbelt would be a great thing to invest in for all runners, athletes and even travelers. It is a simple product that does exactly what you would expect it to do. It holds your most important possessions while you are running, working out, or on the go. It keeps everything in place so you won't even notice it and it is small enough so that it isn't a distraction either. They even come in different colors and styles to fit your own needs and preferences.