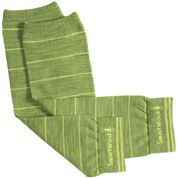 Smartwool arm warmers are great accessories for running, riding and almost any other outdoor activity. They seem like such a simple product, but are very useful. Now you may wonder to yourself, 'why not just wear a long sleeve shirt or jacket?' I thought the same thing whenever I saw someone wearing a pair of arm warmers. But arm warmers are less constricting than sweaters and jackets so you have maximum freedom of movement. To understand how useful Smartwool arm warmers are, you need to know how they are made, which is merino wool, nylon and elastic. It is also soft against the skin and more comfortable than other arm warmers. When I think of wool, i picture a super itchy handmade sweater by a grandma that you never asked for at Christmas. But this is merino wool which is itch-free, naturally breathable, moisture wicking and odor resistant. If merino wool really does all that, why aren't more running gear made of it? Other arm warmers are not made out of merino-wool, which is why Smartwool stands above the rest.
You can literally wear these arm warmers all year long, not just during cold winters. These would be perfect for those chilly morning runs in the spring and summer. I was always afraid of wearing arm warmers during a run because I feel like I would have to take them off as it got hotter outside. But the Smartwool arm warmers does a great job to keep you warm when it's cold, but also stay breathable when it's hot. And if you sweat excessively, you won't have to worry about being stuck wearing a pair of sweat-soaked arm warmers since the merino-wool is moisture wicking.
Other key features of the Smartwool arm wamers is its seamless construction, which like I said earlier, makes it very comfortable. There are also non-binding welts at the wrist and bicep openings that help keep the arm warmers in place. I would hate to have constantly adjust my arm warmers mid-run. So if you're ever in the market to invest in a pair of arm warmers, go with the Smartwool arm warmers, you won't be disappointed.
Where to Buy