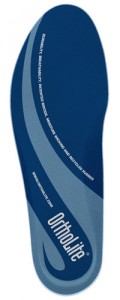 I was recently asked to test and review a pair of OrthoLite Fusion Insoles. If you haven't heard of OrthoLite before, then you're in the same boat as me. But the thing is, you probably have worn a pair of shoes with OrthoLite insoles in them, you just don't know you are. Originally founded in 1997, OrthoLite is the world's leading supplier of open cell foam insoles in the performance and footwear category. Their insoles are already found in more than 100 million pairs of shoes each year including elite brands such as Nike, Asics, New Balance, and Merrell. OrthoLite insoles offer the ultimate in comfort, cushioning and breathability. They solve the most common in-shoe problems by creating a cooler, drier and healthier foot environment with innovative technology.
I'm definitely not picky when it comes to insoles, as long is it doesn't burn my feet, give me blisters and is fairly lightweight, then I'm a happy runner. Check out some of the features found in each pair of OrthoLite Fusion Insoles:
Long-lasting cushioning and unrivaled durability:
Independent tests show OrthoLite insoles retain 95% of their cushioning after the first year. No other open cell foam insole can claim this level of long-term resiliency.
Patented Anti-microbial:
An environmentally-friendly anti-microbial is added to all OrthoLite foams to fight againgst the presence of fungus, odor and bacteria.
High-level Breathability and Wicking:
Unique open cell structure allows air to travel through and around the insole providing maximum venilation, keeping the foot dry and cool.
Other features include: moisture management, lightweight, recycled rubber content (Tarahumara style?), and washable.
I ran with these for a couple of days, but the real test came on race day. I ran a local 5K on the boardwalk of Marina del Rey. You may think that 5k is not long enough to determine whether or not a pair of insoles do what they claim. But I have ran in shoes that started burning my feet in the first mile of a 3 mile race! My feet were definitely not happy then. But they were while running this 5K and it allowed me to perform at a very high level and resulted in a very impressive 8th place finish overall. I'm not going to the extreme by saying that the OrthoLite insoles are the reason why I did so well, but it definitely didn't prevent me from doing so.
OrthoLite is offering a $5 discount code INSOLES5 when you purchase from Amazon. Plus, OrthoLite will donate $1 on every purchase to Level Field Fund.
Where to Buy: