A Lightweight Hydration Vest for Running, Hiking & More
I have never been a fan of holding things while running, whether it was a cell phone, music player or water bottle. But as I started to run longer and longer distances, I realized I needed all of those things, especially the water to keep me hydrated. I've tried holding a water bottle during a long run one afternoon only to end up having to drink lukewarm water because the heat and shaking from my hand cooled down the water.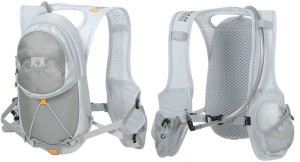 I've had the Nathan HPL Hydration Pack for a while now, but have only had a chance to use it in a few runs that I've had. Most of my runs aren't long enough where I need to re-hydrate or I run in areas where water fountains are common. The one place that I've found the Nathan Hydration Pack very useful is during the occasional trail runs that I've gone on. More recently, I've gone snowboarding and have taken my hydration pack along with me so I can have a drink while on the lifts or during a ride.
The Nathan HPL Hydration Pack is actually called a Hydration Vest because of its light weight and build; you hardly notice it on you when you're wearing it. The construction of the Nathan hydration vest allows you to carry more than enough water, without it weighing you down during any outdoor activity.
Learn more about each feature of the Nathan HPL Hydration Pack
Weight: 6.0 oz., adjustable fit – one size fits all
3-Way Propulsion Harness – This acts as a shock absorber and reduces excess movement and bouncing during your run. It also reduces pressure on your shoulders so it makes the hydration pack easier to use for extended periods of time.
There are a bunch of bungee cords holding the propulsion harness at the front of the hydration pack, which allows you to hang a light shirt or jacket on if it gets too hot.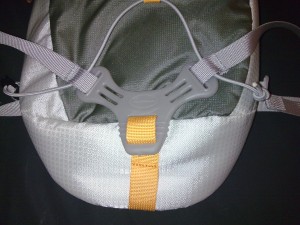 2 Liter Hydration Bladder with Slideseal™ – The Slideseal prevents water from leaking and is held up using a hook mechanism. You can just slide the bladder out, fill it up and slide it back in very easily.
The bladder of the hydration pack is not too heavy even if you fill it up all the way, although one thing that can get annoying is the sloshing sound the water makes while you're running. However, that seems impossible to avoid, listening to music seems to drown that out pretty well.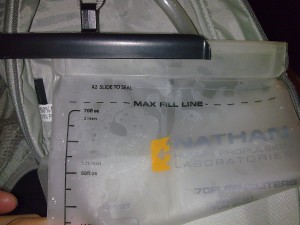 Bite Valve – Drinking water using the bite valve is a 2 step process: first you have to pull out the valve then bite the valve to open and then you can start drinking. This is a unique Nathan Hydration Pack feature that prevents excessive liquids from dripping or leaking. Pulling out the valve is harder than expected, especially while you're on the run, but I suppose it's to ensure that the valve successfully keeps water in.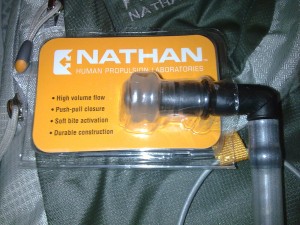 Dual Front Pockets – One mesh holster with an elastic tie at the top, one zippered with an open mesh pocket in front – allows quick access to most needed items (energy gels, phone, etc.)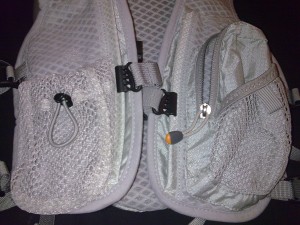 Rear Zippered Compartments – The main compartment is for the bladder, you can't put much else in there (unless you want to keep something else cold) The smaller zippered compartment is great for snacks, cell phone, energy gels, camera, spare socks, car keys, etc.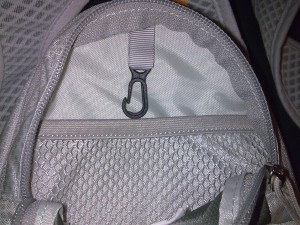 Sternum Strap – Vertically adjustable sternum strap with tube clip helps accommodates different body types and sizes. I found the tube clip to be very helpful; it keeps the tube from bouncing around and hitting you while on a run.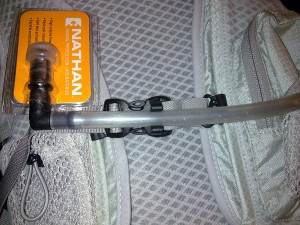 Other Notes
The Nathan Hydration Pack offers a lightweight, breathable wall mesh with soft perimeter binding feels great against the skin and won't damage technical apparel. It's a pretty loose fit; it's not too snug so your back won't get hot since the mesh is open and well ventilated which wicks moisture from the mesh.
You can remove the bladder from the hydration pack to use as a general storage pack or backpack. You can add ice to the bladder to cool your back and keep the water cold for a longer period of time.
One thing to look out for is how often you use the Nathan Hydration Pack to hydrate. The water that is just sitting in the tube near the bite valve will get warm from the sun if you do not drink often enough. So the first couple of gulps may be a little warm but once you get the water from the bladder, it'll be fine.