A pullover made with stretchy Polartec® fabric that wicks moisture, dries fast, and works great as a baselayer or midlayer for alpine activities.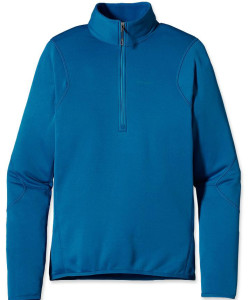 I recently received the Patagonia Piton Pullover to review and the timing couldn't be more perfect since I had already planned a snowboarding trip up to Big Bear with my cousin. As I was packing everything I needed for the day trip, I was trying to decide what top I would wear. Looking at the weather forecast, I knew that it wasn't going to be cold enough to need my regular snowboarding jacket. My alternative is usually a thermal shirt with a regular t-shirt over it. This time, I decided to just wear my Patagonia Piton Pullover and see if that would be enough to keep me warm, but not to the point where I'm sweating from being so active.
But before the trip, I actually wore my pullover as a regular sweater to work at my office. When I first tried it on a few days before, I did notice that it was a pretty slim fit (which it does specify in on the website). The sleeves were longer than my arms, but didn't really matter since I usually pull the sleeves up while working anyways. The problem that I had while wearing it at the office was that it was too warm! Combine that with my warm body from a trip to the gym during lunch and I ended up taking the pullover off for the rest of the day. Conclusion: the Men's Patagonia Piton Pullover is not suitable to wear in an office setting. So let's take this thing to the outdoors!
Before we got to Big Bear, there were temperature signs that said it was about 40 degrees outside and the weather forecast said it was going to be in the 50's for most of the day. Even on our first run, I knew that this was the perfect top for these conditions and activity. It was light so I didn't have to worry about not being able to maneuver as I was twisting and turning while snowboarding. Even though it was very light, it was still very warm during all of our runs. It did start to get windy later on in the day which I did notice during those runs, although not to the point where I needed to go back to the car to add another layer. As a bonus, the pullover was longer so that it covered over my snowboarding pants and gloves and help prevent any wind or ice from my arms and body. Not to show off, but I rarely fell during my runs, so I didn't have to worry about getting the pullover wet. But during those few times that I did 'rest' on the snow, the wicking features definitely kicked in and kept my top dry. I was very impressed at how well it performed the entire day and am looking forward to more alpine activities with the Patagonia Piton Pullover.
Here are some action shots of me in my pullover: