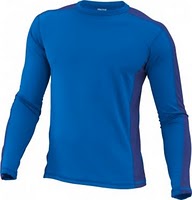 When you read some of the features of the Marmot Lightweight Long Sleeve Crew, you may not be too impressed: tag-free neckline, quick dry, wicking moisture and natural anti-odor management. The others are nice: flat lock construction in the seams and fabric sctretch to ensure improved comfort and fit. Although those are important features that most runners and outdoor athletes are looking for in a shirt, it may not convince you to invest in a Marmot product. But the technology behind the very first feature definitely turned me into a believer (and the video demonstration pushed it over the top). The Marmot Lightweight Long Sleeve Crew uses Polartec Power Dry with Cocona performance technology. Polartec is actually used in a lot of products, you just may not know it. This is a super thin layer that does an ubeliveable job at wicking moisture better than anything I have seen before. This is why all Marmot lightweight and midweight baselayer graments use Polartec!
The video demo on the Marmot website displays the water wicking capabilities of traditional wicking fabric, Polartec Power Dry Fabric and traditional stretch fabric. You really need to see it for your own eyes, but the Polartec Power Dry Wicking technology blew the others out of the water. There are two main features to this technology: first is to move moisture away from the skin and the other is to dry very quickly. When the fabric gets wet, it rapidly spreads and dissapates to the rest of the fabric to dry faster and wicks the moisture off your skin (unlike other fabrics which causes much discomfort and chafing).
Another differentiator is the use of Cocona, which couldn't be described any better than the website:
Cocona® is derived from would-be discarded or "upcycled" Coconut shell husks. The husks are then processed into activated charcoal carbon and blended into a polyester matrix, which is spun into a fiber and then knit into a baselayer fabric. Cocona® is integral to the fiber, naturally occurring and cannot wash out.
Benefits of Cocona®
Dries incredibly fast – 25% faster, addressing the user's needs these days with shorter trips requiring maximum performance
Controls odor naturally – no anti-microbial treatment
Provides UV protection – resists UV rays, rated UPF 40+
Outstanding comfort – soft hand, luxurious next to skin
Natural & Permanent – naturally enhanced performance that lasts a lifetime!
It is amazing how soft and comfortable this shirt is, most likely due to the Cocona component. It is something that I would want to wear all the time, not just for running. But since it does such a great job at wicking moisture, it is a great all around running and outdoors shirt. Marmot has been around for over 36 years, but they have always been focused on delivering the highest quality performance product, which shows in such the simple lightweight long sleeve crew.
Where to Buy