Barefoot running and minimalist running have been a very hot topic in the running world these days. So when I got the opportunity to test and review a pair of Kigo Edge minimalist shoes, I jumped at the chance. These slip on shoes are great for people who lead an active life, for example a runner like me. But they're also great for everyday use around the house or to run errands and more. According to Kigo, "Full coverage keeps dirt and debris out of your shoe, and thin, high-grip rubber outsoles and toe bumpers make the Kigo Edge an ideal minimalist footwear option for active wear."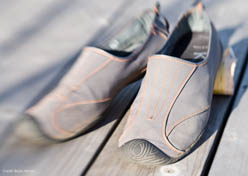 Kigo Footwear strives to be as eco-friendly as possible when making shoes like the Kigo Edge. All products are made with eco-friendly materials, including EVA insoles, post-consumer uppers, and certified non-toxic dyes and stain treatments.
Some of the main features that make the Kigo Edge stand out above the rest:
Weight: 4 ounces per shoe
Design: flexible, 1.5mm thin outsole with non-slip grooving
Fabric: breathable, stretchy (eco-friendly) upper
EPA approved water and stain resistance
Anti-microbial, removable EVA insole
Protective rubber toe cap
Fixed webbing loop on the heel to put on and take off with ease
When I ran in high school, our coach would recommend that the runners do their intervals barefoot on the inside grassy area of the track instead of with their traditional running shoes. It's not something he suggested we do all the time, but once in a while. This benefited us for many reasons. By running barefoot, you are working out a new set of muscles, which is great for building overall strength for running. The range of motion is more natural when running barefoot. The other benefit is that it helps with your running form and posture, which can improve running efficiencies as well. And whenever I did run barefoot, it felt good to feel the grass with my toes while I ran.
There are drawbacks to running barefoot though. The one that keeps me from doing it is the fact that you can't protect your feet from all the random things that are found on the road or trail. This is where minimalist running comes into play. The Kigo Edge minimalist shoes are light so that it feels like you're running barefoot, but adds that level of protection for your feet. While wearing the shoes, you can feel yourself stepping on small rocks, but not to the point where it hurts.
The other great thing about the Kigo Edge is that it's a multi-purpose shoe. Something that I've been trying to get into is triathlons and I think these shoes would be perfect for the running portion of the race. You don't have to wear socks with them, they're easy to slip on and they're light too. It is also a good overall casual shoe for regular outings like the beach. And because the materials on the Kigo Edge are water resistant; they're made to get wet.
I think in the ever-growing space of minimalist shoe industry, Kigo is doing a good job to stay ahead of the curve with innovative products like the Kigo Edge.