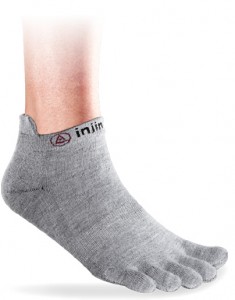 I'm sure most runners have heard of Injinji, but I bet not all of them can successfully pronounce the name. It reminds me of the yoga apparel brand, Lululemon. But like their company name, their actual products are also very unique to the running industry. If you are one of the few people who have not heard of Injinji, or had the opportunity to try on a pair, you should. The easiest way to describe them is a glove for your feet. The Injinji "No Show" Performance Lightweight Toesocks are one of the newest pairs of running socks by the company. They are the thinnest toesocks available which can be used to create that barefoot-like experience that people have been raging about these days. The ultra-thin material is ideal for minimalist performance footwear (e.g. Vibram FiveFingers). But you can also use them as a base layer to your normal pair of running socks. The toesocks utilize CoolMax moisture-wicking technology, which helps keep your feet cool, dry and protected from friction that can cause blisters during those tough workouts.
I actually wore the Injinji "No Show" Performance Lightweight Toesocks in a few different situations. The first time I used them, I actually wore them with my racing flats for a local 5K near my house, which I happened to win 3rd overall and first in my age group! Prior wearing the socks, I was afraid that my foot would be sliding around inside the show and that I'd have no grip during a run, but I was wrong. The socks felt very comfortable during the race and I barely noticed them on.
The other two times I tested out the socks were with my Vibram FiveFingers KSO, which was a perfect fit with the socks. I believe this is where most runners use their Injinji toesocks. Although the Injinji toesocks are pretty easy to put on, it still takes a little bit longer to put on than regular socks. The FiveFingers take even longer, so I rarely combine the two just because of that reason. The other time I wore the Injinji toesocks were just around the house because they were that comfortable. And of course, since they aren't that common, people who noticed them were very interested in them.
Although the Injinji Performance Lightweight toesock is not new, the "No Show" length is. I used to always run in ankle socks, but always ran into issues with them sliding down into my shoes which was very annoying to have to pull them up mid-run. The Injinji toesocks are designed to prevent that issue, which is a big plus in my book. These new running socks are a great new addition to their current running sock lineup.
Where to Buy: