The GT-600 is a water-resistant, motion activated GPS receiver and photo geo-tagger capable of storing 262,000 records (64MB)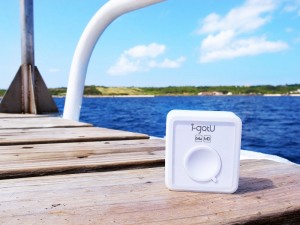 I was sent the i-gotU USB GPS Travel & Sports Logger from Mobile Action Technology to test and review. I knew they made cell phone data cables, but not such innovative and robust products like the i-gotU GT-600. This tiny little device is capable of doing so many things; I was blown away even before I received the product just by reading the description via email, their website and then looking at the package it came in. Before I get into the full details of each feature and my review, I will layout exactly what Mobile Action states the i-gotU USB GPS Travel & Sports Logger has to offer.
Key Features:
Auto-map your photos with GPS location information
Organize and present your journey on 3D Google Maps & Google Earth
Compatible with all digital cameras and camera phones, GPS tracking gadget for your journey
Easy-to-use software user interface
Export in multiple file formats, support popular web albums (i.e. Flickr, Picasa, etc)
Quick & easy to create & share your live Travel Blog with all your friends
Multiple ways for attachment, suitable for outdoor use
Water-resistant hardware design, suitable for rainy days, skiing, water sports
Compatible with 3rd party GPS navigation software, serve as PC GPS receiver as well
With Motion Detector, GPS Logger makes daily logging much easier and power efficient
Users
The i-gotU USB Travel & Sports Logger is ideal for travelers, hikers, runners, bikers and adventurers alike. As a traveler, you can do all your sightseeing with the GPS receiver attached to your backpack, for example, and take pictures along the way. You can upload travel routes to your PC and it'll show you exactly where you visited on a Google Map while geo-tagging all the pictures you took as well.
For others, it works the same way. You can track the distance you traveled, your speed, altitude and again, geo-tag any pictures you take along the way all seen within Google Maps. You can also create a profile, update and share with other users on their website, @trip. In addition to @trip, you can upload photos to Flickr, Picasa, Facebook, MySpace and Twitter!
Features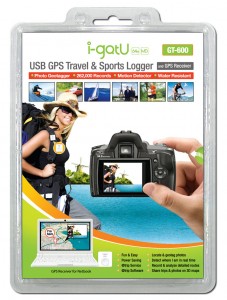 The i-gotU USB GPS Travel & Sports Logger only weighs 37g with the following dimensions: 46 x 41.5 x 14 mm. To get an idea of how small this GPS receiver is, it is comparable to the size of a 9V battery. It comes with a Velcro strap which you can attach to your backpack while traveling. I've had it on my wrist while running and even considered around my ankles (but that looked too much like I was supposed to be on house arrest!).
There is only one button with two LED lights and getting it to work couldn't be any easier. The power-saving feature on this device makes it so that you don't have to worry about constantly turning it on and off. When it's motionless, the device goes on auto power-off and turns on when it senses movement. This power efficiency allows about a 20% increase in logging time.
The water resistant feature allows you to use the i-gotU GT-600 all year long without worrying about rain, snow or any other elements you can think of. You can go water skiing on your vacation and not worry about it failing on you. I would love to map that out and see where exactly I am in the middle of the ocean!
How to Use
The instructions to use the i-gotU GPS Travel & Sports Logger couldn't be any easier. You have to charge it for 4 hours before its first use which I didn't like because I wanted to use it right away! But after the initial charge, it only needs 2 hours for a full charge, but it'll last many more before you will need to recharge.
Working the GPS receiver is a cinch: just hold the button for 2 seconds and the light will start blinking telling you it's searching for a satellite. When you see the red and blue light blinking, it has located a satellite and it has started tracking. When you are done with the device you can either leave it alone and it will turn off once it's motionless or you can hold the button for two seconds and you'll see just the red light and turn off.
Software Features
@trip PC – This program is a great way to import your trip information. You can import all the places you visited, along with the photos you took at each location which gets geo tagged in the built-in map. You can then upload all that information to @trip and the photo sharing services mentioned before.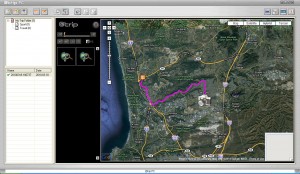 Sports Analyzer – This is the program I have used most. You can use the i-gotU GPS Sports Logger for any activity. I used it for running, but you can for cycling, hiking/mountain climbing, skiing, boating, horseback riding, etc. Once you're done, you can upload the data to the Sports Analyzer.
It shows start/end time, duration, distance, avg/max speed, pace, highest/lowest elevation and even calorie count. Like the @trip PC, it'll map exactly where you were and where you traveled. What I think is pretty cool is the graphs it provides. There are quite a few: altitude vs distance, speed vs distance, altitude vs time, speed vs time and a few others. There's also a calendar on the upper left corner so you can look back at past workouts very easily. I'm sure this is all more data than one would want, but it's nice to know it's there.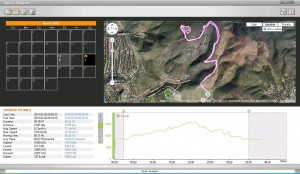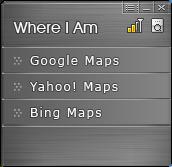 Where am I – This is a pretty simple program that can pinpoint exactly where you (or the GPS receiver) is at any moment. When you have the receiver on and it is locked to a satellite, all you have to do is click on which map you want to see (Google, Bing, or Yahoo Maps) and it'll give you the exact coordinates (longitude and latitude) of the GPS receiver.
I don't know what the real use of this product is, but where I think it would be useful is if a person gets lost or hurt, someone else can run this program and find out exactly where they are and find them.
Quirks
These are probably minor details, but I think they're worth mentioning. It actually takes a while (couple of minutes at least) for the i-gotU GT-600 to pick up a satellite signal. But this is turning on the i-gotU each time. So maybe if I just let it go on auto power-off and let the motion detector turn it on by itself, it'll find the satellite signal faster.
The other thing is that the GPS is not the most accurate, but pretty close. Looking at the maps, it appears that the satellite will track one point, wait, then track another. So when you look at the map, it connects the two points and makes it look like you ran a tangent. But the distance is pretty close overall, so I wouldn't mind using it to track my runs.
Overall
The i-gotU GT-600 USB GPS Travel & Sports Logger is tiny little gadget packed with more features than you can count. It's extremely easy-to-use with software that makes uploading your travel/activity data with ease. I think this device would suit someone who travels a lot and wants to geo-tag their photos quickly and easily. All the other features are just an added benefit.
Where to Buy One