Not too long ago, I was given the opportunity to test and review the Cloudveil Run Don't Walk Vest. I was never a big vest wearer before, if it was cold enough outside, I would either wear a long sleeve tech-tee or possibly a running jacket if it was that cold. Before I get into my thoughts on the vest, here is what Cloudveil has to say about their Run Don't Walk Vest. "The flexible Polartec Power Stretch adds insulation in the front and back, while the Polartec Power Dry side panels decrease overall density". The Polartec Power Stretch and Power Dry fabrics definitely make this vest stand out. (This is also the main fabric used in the Marmot Lightweight Crew LS) The fabric uses very advanced technology to wick moisture away from the fabric (faster than other fabrics), keeping you dry and the apparel as light as when you first started the run. The Polartec Power Dry fabrics on the side of the vest are super thin, which helps keep the vest very lightweight at 7 ounces; this thing definitely won't be holding you back on your runs.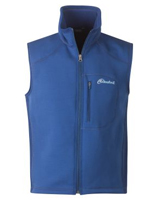 I found this vest quite useful while going out for morning runs during the week, but also for evening runs after the sun has gone down. The vest is an ideal option for those workouts that aren't quite cold enough for a full jacket, but too chilly for a single layer. The chest pocket is useful to carry necessary items during a run. If all of these features aren't good enough, then what is also nice about this vest is that it looks good enough to wear around as casual wear. Most of the running tech tees that I own, I probably wouldn't wear them in non-running situations, as much as I would love to knowing how comfortable they are. But the vest is definitely something you can just wear as is or combine as a running vest as well.
To find this online dealers for this vest and other Cloudveil products, go here. But you can also buy the other Run Don't Walk Cloudvel products: Hoody, Top, Crew Sweatshirt, Light Top & Performance Long-Sleeve 1/2 Zip.