I'm not very picky when it comes to headphones and the process of reviewing them. As long as they play music when I want them to, do not break down quickly and possibly look nice, then they're OK in my book. I have listened many high end headphones including BOSE, Beats, and Skullcandy headphones. Of the 3, the BOSE were definitely the most comfortable and the Beats were the flashiest while the Skullcandy headphones were the most budget-friendly. Check out my other review of the v-JAYS headphones. I've had more than one pair of headphones that have died on me during a run most likely from too much sweat getting into the headphones.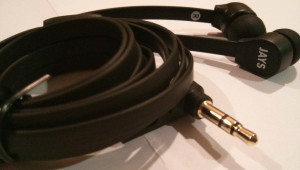 The a-JAYS One earphones utilize a very simple design, but look and feel great when in use. It is the perfect partner for on-the-go music enjoyment as it efficiently blocks out ambient noise. a-JAYS One is perfect for use when out and about with your MP3 player or phone.
No more annoyingly tangled cables. JAYS newly-developed flat cable technology delivers precise, full-bodied sound with minimum tangle. As well as being extremely practical and flexible, this 5mm wide cable is a design classic and will make you stand out from the crowd. The a-JAYS One uses soft silicone sleeves which envelop the earpiece and reduce surrounding sound by up to 40dB. This offers a far superior listening experience in ambient environments.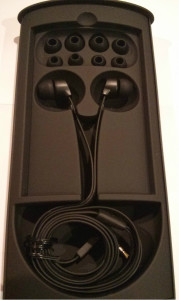 a-JAYS One comes with up to 5 pairs of silicone sleeves ranging in size from XXS to L. This choice means all a-JAYS users can achieve a natural, comfortable fit, and maximum external sound insulation. Use the gift box included to store your silicone sleeves when not in use or to protect them when you're on the go.
I have yet to test these out on a run just yet, but it's more because I'm afraid I'll damage them from the sweat. So for now, I'll just use them for indoor activities like when I'm at work or for the road trip to Arizona I'll be taking this week. If you're interested in the a-JAYS, you should consider other accessories for Nexus 7. I already own a case for my Nexus 7, so these a-JAYS One headphones is a great accessory to my collection.
Where to Buy: