Posted on Mar 07, 2017 under
Race
|
1 Comment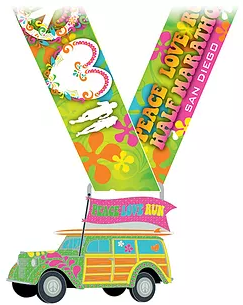 There are races that happen almost every week across the country, each with their own unique differentiators (scenic course, obstacles, bands, colors, and more). Some are more popular than others. I just wanted to share one that is pretty…hip and groovy (pun intended). The Peace-Love-Run Half Marathon, 10K & 5K Run and Peace Love Yoga events take place in Mission Bay San Diego on April 1, 2017. This 60's inspired race has distances for runners of all levels, with "go-go girls, hippie chicks, woodstock dudes, Sonny and Cher" all present.
All participants will receive a pretty cool finisher's medal with a free shirt (tech tee for half marathon and cotton for all other distances). There is also a yoga party with a free yoga mat for all participants of that event. The run and yoga party both take place in Mission Bay, which is quite scenic and peaceful.
Register for the run and/or yoga event today!